The first week of June begins another chain of events to usher in the Yellowstone National Park Quarter, which is only the second coin in the United States Mint's America the Beautiful Quarters™ series to be issued.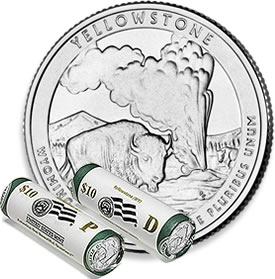 Tuesday, June 1, 2010 the Yellowstone quarters begin making their way through the Federal Reserve banking system to local banks and daily change around the country.
Finding the new 25-cent piece in circulation is often quite challenging early on, and is always a matter of time, location, circumstances and dependant on quantities issued — the coin's mintage.
For collectors, getting both Denver and Philadelphia circulation strikes can be more challenging.
Quarter Bags and Rolls Issued
The U.S. Mint does offer a solution for a premium. Also on Tuesday, the Mint started selling coin bags and rolls of the quarters. Two-roll sets of 80 — 40 from Denver and 40 from Philadelphia — are available for $32.95. Then there is an option to purchase 100-coin bags from either Mint facility for $35.95.
Interested parties can place orders at http://www.usmint.gov/catalog, or at 1-800-USA-MINT (872-6468). A fee of $4.95 will be added to all domestic orders to cover shipping and handling costs.
Yellowstone National Park Quarter Release Ceremony
On Thursday, June 3, at 10:30 AM Mountain Time, the Yellowstone quarter launch ceremony will occur at Yellowstone National Park's Old Faithful Inn — a National Historic Landmark that was built more than a century ago and is located beside Old Faithful Geyser.
The famous geyser, of course, is one of the main features of the park depicted on the reverse side of the quarter.
The coin will be presented by:
Ed Moy, Director, United States Mint
Suzanne Lewis, Superintendent, Yellowstone National Park
Paul Schullery, Historian and Author
Gene Bryan, Member, Wyoming Tourism Board
Following the ceremony, children 18 years and younger will receive one of the new coins to commemorate the event. Adults can exchange cash for $10 quarter-rolls containing 40 circulation-quality strikes from Denver.
Attendees will also be able to have quarter-dollar rolls and event programs canceled with a circular date or pictorial stamp via the U.S. Postal Service.
A live web cast of the ceremony will be available at: http://www.americathebeautifulquarters.gov. The stream will be available beginning at 10:25 a.m. (MT).
More information about Yellowstone National Park can be found at:
http://www.nps.gov/yell/index.htm.
The America the Beautiful Quarters series will continue through to 2021 with a total of 56 different reverse designs that depict 48 National Parks, two U.S. Fish and Wildlife sites, and six U.S. Forest Service sites.