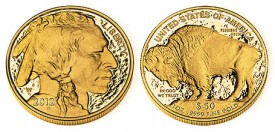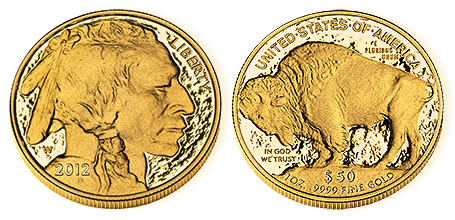 On Wednesday, April 25, the United States Mint reduced prices on 18 collector products, including the newly released proof Gold Eagles, the 2012 $5 Star-Spangled Banner Commemorative Coins, the two American Gold Buffalo coins and the seven First Spouse coins.
Prices for these coins can change once a week in accordance with the U.S. Mint's pricing structure for precious metals products, but adjustments have been infrequent lately as gold had stayed within a fairly narrow range.
Gold prices have moved lower since mid last week, however, and the weekly average for London gold declined enough to trigger a round of price reductions across the following U.S. Mint products:
United States Mint Numismatic Gold Coin
New Prices
Difference
4 First Spouse Uncirculated Coins
$966.00
-$25.00
3 First Spouse Proof Coins
$979.00
2011-2012 American Buffalo
$1,910.00
-$50.00
2012 American Gold Eagles 1 oz
$1,885.00
-$50.00
2012 American Gold Eagles 1/2 oz
$956.00
-$25.00
2012 American Gold Eagles 1/4 oz
$490.50
-$12.50
2012 American Gold Eagles 1/10 oz
$210.50
-$5.00
2011-2012 American Gold Eagle 4-Coin Set
$3,493.00
-$92.50
2012  $5 Star-Spangled Banner Proof Commemorative
$497.85
-$12.15
2012  $5 Star-Spangled Banner Uncirculated Commemorative
$487.85
2012 Star-Spangled Banner Commemorative Two-Coin Set
$547.85
The above coin prices are based on a weekly average of gold which falls within $1,600.00 an ounce and $1,649.99 an ounce. That average was calculated using AM and PM fixing prices between last Thursday and Wednesday. The next potential coin pricing adjustments could occur on Wednesday, May 2, 2012.
American Platinum Eagle coins can also get adjusted weekly based on the use of a similar pricing system. Platinum, however, must swing through $100 range increments instead of the $50 used for gold. Platinum prices have not change significantly enough to kick-in a price decrease for the 2011-W Proof Platinum Eagle. The price for the Eagle is currently based on a platinum average that falls within $1,550.00 an ounce and $1,649.99 an ounce.