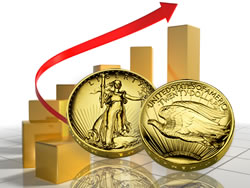 The latest United States Mint product to launch was the 2011 Mint Uncirculated Coin Set. According to new sales figures, the set debuted at 191,391 between its release on Tuesday, February 8, through to Sunday, February 13. Other highly demanded products on the chart were the 2011 Proof Set and the 2011 Silver Proof Set.
The United States Mint Uncirculated Coin Set is often simply called the Mint Set, and this year it goes for $31.95. It contains 28 coins, of which half of them are from the Denver mint facility and the rest from the Philadelphia facility. It is a very popular product among collectors. The US Mint has sold 561,035 of the 2010 version since that set launched on July 15, 2010.
2011 Proof Sets catapulted in this round to advance 73,789 versus 20,473 and 21,784 in the previous weeks. They were the second best seller, and their new total rose to 395,069. The 2011 Silver Proof sets were next, growing by 24,630 which made their new tally 257,148.
The freshly launched Army Commemorative Coins pulled in strong numbers for their second full week. The proof silver dollars climbed 14,541 and the proof clad half-dollars jumped by 9,301.
Although Buchanan's Liberty Proof First Spouse Coin is no longer available from the Mint, its total retreated by -3 to 7,314. The uncirculated version leaped by 113 to land at 4,574. The allowed mintage between both options was supposed to be 15,000, and their combined total is presently sitting at 11,888.
Authorized Purchasers picked up 768,500 more bullion American Silver Eagles in the last week. So, the month's new total is 1,705,500. Annual sales are now at 8,127,500.
The top selling gold bullion was the one-tenth ounce American Gold Eagle. They propelled by 95,000 which means 100,000 coins sold in February. The one ounce Gold Eagles sprung up 13,500 during the week, the half-ounce version increased 5,000, and the quarter-ounce gained 14,000.
The first three columns of the table below provide weekly US Mint sales increases between the listed time periods, offering a sense of recent trends. The final column provides the latest US Mint sales totals as of Sunday, February 13, 2011. Bullion coin tables are found toward the bottom, with the most recent sales as of Tuesday, February 15. (NLA = No Longer Available.)
US Mint Sales
Unit
Increase

Jan 24-

Jan 30
Unit
Increase

Jan 31-

Feb 6
Unit
Increase

Feb 7-

Feb 13
Latest
Sales
Totals
2011 U.S. Army Commemorative Coins
$5 Gold Proof
7,861
2,108
9,969
$5 Gold Uncirculated
3,045
758
3,803
$1 Silver Proof
46,895
14,541
61,436
$1 Silver Uncirculated
20,698
5,520
26,218
50¢ Clad Proof
30,162
9,301
39,463
50¢ Clad Uncirculated
19,528
4,292
23,820
2010 American Buffalo Gold Proof
185
302
342
45,580
2010 American Eagle Silver Proof
NLA
NLA
NLA
860,000
2010 American Eagle Platinum Proof
NLA
NLA
NLA
10,000
2010 American Eagle Gold Proof Coins
One ounce
NLA
NLA
NLA
25,000
One-half ounce
NLA
NLA
NLA
10,000
One-quarter ounce
NLA
NLA
NLA
10,000
One-tenth ounce
NLA
NLA
NLA
20,000
Four-coin set
NLA
NLA
NLA
35,000
FIRST SPOUSE GOLD COINS
Abigail Fillmore Proof (2010)
22
32
14
5,596
Abigail Fillmore Uncirculated (2010)
7
22
31
3,366
Jane Pierce Proof (2010)
20
33
22
4,677
Jane Pierce Uncirculated (2010)
18
17
131
2,995
Buchanan's Liberty Proof (2010)
43
226
-3
7,314
Buchanan's Liberty Uncirculated (2010)
32
35
113
4,574
Mary Lincoln Proof (2010)
89
124
45
5,239
Mary Lincoln Uncirculated (2010)
43
69
27
2,559
US MINT PROOF SETS
2011 United States Mint Silver Proof Set
209,367
23,151
24,630
257,148
2011 United States Mint Proof Set
21,784
20,473
73,789
395,069
2010 United States Mint Proof Set
3,043
2,752
0
1,060,329
2010 America the Beautiful Quarters Proof Set
782
558
818
259,863
2010 U.S. Mint Silver Proof Set™ (18-coin)
2,868
3,213
3,532
535,838
2010 Presidential $1 Coin Proof Set™
660
812
1,456
519,553
2010 America The Beautiful Quarters Silver Proof Set™
963
1,559
1,162
236,683
US MINT UNCIRCULATED SETS
2011 United States Mint Uncirculated Set
191,391
191,391
2010 United States Mint Uncirculated Set
1,391
1,291
1,861
561,035
2010 Presidential Uncirculated Dollar Coin Set™ (P&D)
670
329
350
93,132
2010 America the Beautiful Quarters Uncirculated Coin Set
558
434
427
22,628
2010 QUARTERS CIRCULATING COIN SET
289
298
299
14,381
2010 AMERICA THE BEAUTIFUL 3-COIN SET
Yellowstone Quarters
838
749
694
15,485
Hot Springs Quarters
250
232
185
16,001
GETTYSBURG QUARTER QUARTER BAGS & ROLLS
100-coin bag (P)
3,275
359
198
3,832
100-coin bag (D)
3,230
327
192
3,749
Two-Roll Set (80 coin) (P&D)
20,871
2,302
1,312
24,485
MOUNT HOOD QUARTER QUARTER BAGS & ROLLS
100-coin bag (P)
56
33
24
5,738
100-coin bag (D)
68
40
24
5,494
Two-Roll Set (80 coin) (P&D)
227
211
200
31,301
GRAND CANYON QUARTER QUARTER BAGS & ROLLS
100-coin bag (P)
54
26
33
6,308
100-coin bag (D)
55
35
31
6,649
Two-Roll Set (80 coin) (P&D)
159
145
135
33,382
YOSEMITE QUARTER QUARTER BAGS & ROLLS
100-coin bag (P)
73
19
21
6,912
100-coin bag (D)
40
22
30
6,959
Two-Roll Set (80 coin) (P&D)
153
107
103
36,040
YELLOWSTONE QUARTER QUARTER BAGS & ROLLS
100-coin bag (P)
35
28
25
8,082
100-coin bag (D)
29
33
18
8,568
Two-Roll Set (80 coin) (P&D)
117
114
106
41,193
HOT SPRINGS QUARTER BAGS & ROLLS
100-coin bag (P)
28
25
16
9,548
100-coin bag (D)
23
27
22
8,881
Two-Roll Set (80 coin) (P&D)
83
84
92
46,284
2009 JAMES K. POLK $1 COIN ROLLS
25-coin roll set (P)
49
29
18
42,270
25-coin roll set (D)
36
31
25
40,569
2009 ZACHARY TAYLOR $1 COIN ROLLS
25-coin roll set (P)
38
26
17
39,782
25-coin roll set (D)
27
30
24
37,929
2010 MILLARD FILLMORE $1 COIN ROLLS
25-coin roll set (P)
50
40
28
38,338
25-coin roll set (D)
30
38
35
36,572
2010 FRANKLIN PIERCE $1 COIN ROLLS
25-coin roll set (P)
59
44
59
35,146
25-coin roll set (D)
39
45
59
34,480
2010 JAMES BUCHANAN $1 COIN ROLLS
25-coin roll set (P)
98
74
105
33,283
25-coin roll set (D)
86
65
100
32,795
2010 ABRAHAM LINCOLN $1 COIN ROLLS
25-coin roll set (P)
408
393
410
46,665
25-coin roll set (D)
368
354
282
46,381
PRESIDENTIAL $1 COIN & FIRST SPOUSE MEDAL SETS™
Abigail Fillmore
24
20
40
9,244
Jane Pierce
26
27
47
7,097
Buchanan's Liberty
58
48
66
6,367
Mary Lincoln
387
465
310
10,681
2010 KENNEDY HALF-DOLLAR BAGS & ROLLS
200-coin bag (P&D)
-30
0
0
8,846
2-roll set (P&D)
154
209
549
35,887
2010 NATIVE AMERICAN GOLDEN DOLLAR ROLLS
25-coin roll set (P)
244
128
333
38,509
25-coin roll set (D)
103
132
225
38,190
PRESIDENTIAL $1 COIN COVERS
William Henry Harrison
27
19
25
29,181
John Tyler
26
13
31
25,976
James K. Polk
27
18
31
24,196
Zachary Taylor
31
18
37
23,130
Millard Fillmore
47
24
30
22,037
Franklin Pierce
66
36
50
20,349
James Buchanan
99
69
67
18,786
Abraham Lincoln
662
502
459
28,952
LINCOLN TWO-ROLL SETS
2010 Shield Cent
841
379
378
172,202
| | | | |
| --- | --- | --- | --- |
| | January | February | 2011 TOTALS |
| America the Beautiful Silver Bullion Coins | | | 0 |
| American Eagle Gold 1 oz | 130,500 | 39,000 | 169,500 |
| American Eagle Gold 1/2 oz | 1,000 | 5,000 | 6,000 |
| American Eagle Gold 1/4 oz | 2,000 | 16,000 | 18,000 |
| American Eagle Gold 1/10 oz | 20,000 | 100,000 | 120,000 |
| American Buffalo Gold 1 oz | | | 0 |
| American Eagle Silver 1 oz | 6,422,000 | 1,705,500 | 8,127,500 |