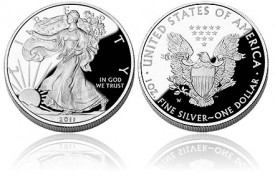 Collectors shopped and bought US Mint coins in larger quantities according to the latest round of sales figures. In fact, 72 numismatic products pegged higher gains than the previous week. The overachieving items were not just limited to one type but were across the board with surges in silver, gold, platinum, and clad offerings.
The most desired coin was the 2011 Proof Silver Eagle. Buyers picked up 52,050 of them during their second full week of their availability. After 18 days on the market, 460,041 sold or 53% of last year's 860,000 mintage. The US Mint has not indicated how many or how long they will produce this year's issue of the popular coins.
The Grand Canyon and the Yosemite National Park 5 Oz Silver Uncirculated Coins were still available when the US Mint recorded their sales figures on Monday, July 18. At that time, 4,974 Grand Canyon 5 oz. coins and 260 Yosemite coins were left. Since then, however, a waiting list notice for the Yosemite coin reappeared on its online ordering page, meaning the US Mint accepted those last 260 orders and all future orders will be filled on a first come, first serve basis if any previous orders are cancelled.
As for the Abraham Lincoln Presidential $1 Coin & First Spouse Medal Set that catapulted by 5,063 in the last round, it plummeted by -4,946 in this one … as expected. The two best selling coin and medal sets were the new Ulysses S. Grant and Andrew Johnson ones, with 763 and 133.
The first three columns of the table below provide weekly US Mint sales increases between the listed time periods, offering a sense of recent trends. The final column provides the latest US Mint sales totals as of Monday, July 18, 2011. Bullion coin tables are found toward the bottom, with the most recent sales as of Wednesday, July 20. (NLA = No Longer Available.)
US Mint Sales
Unit
Change
Unit
Change
Unit
Change
Latest
Sales
6/27 – 7/5
7/6 – 7/14
7/15 – 7/18
2011 Proof Silver Eagle
367,623
40,368
52,050
460,041
September 11 National Medals
West Point
5,125
1,519
1,769
41,459
Philadelphia
3,491
1,092
1,160
23,695
2011 Proof Platinum Eagle
95
107
195
8,542
2011 Uncirculated Gold Eagle
105
93
260
3,260
2011 American Eagle Gold Proof Coins
One ounce
154
401
2,362
20,070
One-half ounce
49
55
166
2,828
One-quarter ounce
86
87
192
4,440
One-tenth ounce
292
238
319
10,349
Four-coin set
100
85
324
8,000
2011 Medal of Honor Commemorative Coins
$5 Gold Proof
120
55
272
14,836
$5 Gold Uncirculated
77
24
396
6,000
$1 Silver Proof
1,397
483
612
94,160
$1 Silver Uncirculated
212
123
461
36,507
2011 U.S. Army Commemorative Coins
$5 Gold Proof
64
30
60
15,795
$5 Gold Uncirculated
23
13
96
6,070
$1 Silver Proof
658
294
339
106,529
$1 Silver Uncirculated
168
92
83
40,505
50¢ Clad Proof
325
121
326
61,073
50¢ Clad Uncirculated
108
23
88
35,082
2011 American Buffalo Gold Proof
599
305
918
13,667
2010 American Buffalo Gold Proof
NLA
NLA
NLA
49,374
FIRST SPOUSE GOLD COINS
Abigail Fillmore Proof (2010)
NLA
NLA
NLA
6,140
Abigail Fillmore Uncirculated (2010)
NLA
NLA
NLA
3,489
Jane Pierce Proof (2010)
NLA
NLA
NLA
4,843
Jane Pierce Uncirculated (2010)
NLA
NLA
NLA
3,333
Buchanan's Liberty Proof (2010)
NLA
NLA
NLA
7,304
Buchanan's Liberty Uncirculated (2010)
NLA
NLA
NLA
5,348
Mary Lincoln Proof (2010)
48
16
47
6,517
Mary Lincoln Uncirculated (2010)
NLA
NLA
NLA
3,760
Eliza Johnson Proof (2011)
66
-6
116
2,995
Eliza Johnson Uncirculated (2011)
44
21
101
1,947
Julia Grant Proof (2011)
451
213
388
2,633
Julia Grant Uncirculated (2011)
311
132
271
1,731
US MINT PROOF SETS
2011 America The Beautiful Quarters Silver Proof Set™
1,710
841
1,156
103,116
2011 America The Beautiful Quarters Proof Set™
1,605
893
1,051
100,330
2011 Presidential $1 Coin Proof Set™
1,785
1,073
1,503
222,583
2011 United States Mint Silver Proof Set
3,884
2,703
2,999
432,656
2011 United States Mint Proof Set
7,171
5,202
5,140
780,049
2010 United States Mint Proof Set
528
409
397
1,087,947
2010 America the Beautiful Quarters Proof Set
215
117
225
268,598
2010 U.S. Mint Silver Proof Set™ (18-coin)
530
424
383
569,206
2010 Presidential $1 Coin Proof Set™
276
199
210
527,437
2010 America The Beautiful Quarters Silver Proof Set™
558
516
1,092
258,042
US MINT UNCIRCULATED SETS
2011 Presidential Uncirculated Dollar Coin Set™
1,080
610
632
34,569
2011 United States Mint Uncirculated Set
3,514
2,421
2,485
404,257
2010 United States Mint Uncirculated Set
374
239
335
574,612
2010 Presidential Uncirculated Dollar Coin Set™
116
0
0
97,343
AMERICA THE BEAUTIFUL 5 OZ SILVER UNCIRCULATED COINS
Grand Canyon National Park
19,300
1,534
1,192
22,026
Yosemite National Park
1,792
442
1,402
26,740
Yellowstone National Park
NLA
NLA
NLA
27,000
Hot Springs National Park
NLA
NLA
NLA
27,000
2011 America the Beautiful Quarters Uncirculated Coin Set
414
259
275
19,787
2010 America the Beautiful Quarters Uncirculated Coin Set
184
103
140
29,843
2010 America the Beautiful Quarters "Circulated" Coin Set
134
69
99
19,916
2010 AMERICA THE BEAUTIFUL 3-COIN SET
Mount Hood Quarters
179
63
88
13,559
Grand Canyon Quarters
150
58
72
15,941
Yosemite Quarters
76
38
45
16,555
Yellowstone Quarters
83
38
40
18,929
Hot Springs Quarters
64
34
39
18,823
OLYMPIC QUARTER QUARTER BAGS & ROLLS
100-coin bag (P)
185
81
69
3,007
100-coin bag (D)
163
74
57
2,941
Two-Roll Set (80 coin) (P&D)
1,272
485
426
21,751
GLACIER QUARTER QUARTER BAGS & ROLLS
100-coin bag (P)
35
24
8
3,456
100-coin bag (D)
27
20
12
3,605
Two-Roll Set (80 coin) (P&D)
197
117
112
25,130
GETTYSBURG QUARTER QUARTER BAGS & ROLLS
100-coin bag (P)
14
15
9
4,506
100-coin bag (D)
10
17
11
4,351
Two-Roll Set (80 coin) (P&D)
114
57
77
30,604
MOUNT HOOD QUARTER QUARTER BAGS & ROLLS
100-coin bag (P)
10
7
4
6,027
100-coin bag (D)
9
9
5
5,793
Two-Roll Set (80 coin) (P&D)
42
-177
225
32,837
GRAND CANYON QUARTER QUARTER BAGS & ROLLS
100-coin bag (P)
18
7
6
6,622
100-coin bag (D)
13
10
8
6,962
Two-Roll Set (80 coin) (P&D)
32
17
22
34,623
YOSEMITE QUARTER QUARTER BAGS & ROLLS
100-coin bag (P)
11
3
4
7,171
100-coin bag (D)
13
7
5
7,219
Two-Roll Set (80 coin) (P&D)
34
17
24
37,174
YELLOWSTONE QUARTER QUARTER BAGS & ROLLS
100-coin bag (P)
NLA
NLA
NLA
8,331
100-coin bag (D)
NLA
NLA
NLA
8,824
Two-Roll Set (80 coin) (P&D)
NLA
NLA
NLA
42,088
HOT SPRINGS QUARTER BAGS & ROLLS
100-coin bag (P)
NLA
NLA
NLA
9,672
100-coin bag (D)
NLA
NLA
NLA
9,011
Two-Roll Set (80 coin) (P&D)
NLA
NLA
NLA
46,804
2009 JAMES K. POLK $1 COIN ROLLS
25-coin roll set (P)
59
56
13
42,756
25-coin roll set (D)
22
50
12
41,003
2009 ZACHARY TAYLOR $1 COIN ROLLS
25-coin roll set (P)
21
52
64
40,325
25-coin roll set (D)
19
50
102
38,471
2010 MILLARD FILLMORE $1 COIN ROLLS
25-coin roll set (P)
NLA
NLA
NLA
38,409
25-coin roll set (D)
NLA
NLA
NLA
36,634
2010 FRANKLIN PIERCE $1 COIN ROLLS
25-coin roll set (P)
4
0
0
35,731
25-coin roll set (D)
3
0
0
34,942
2010 JAMES BUCHANAN $1 COIN ROLLS
25-coin roll set (P)
27
19
102
34,225
25-coin roll set (D)
29
15
76
33,579
2010 ABRAHAM LINCOLN $1 COIN ROLLS
25-coin roll set (P)
0
-464
0
48,832
25-coin roll set (D)
138
76
102
49,149
2011 ANDREW JOHNSON $1 COIN ROLLS
25-coin roll set (P)
142
96
123
29,933
25-coin roll set (D)
125
74
134
28,750
2011 ULYSSES S. GRANT $1 COIN ROLLS
25-coin roll set (P)
653
299
409
26,195
25-coin roll set (D)
625
277
398
25,538
PRESIDENTIAL $1 COIN & FIRST SPOUSE MEDAL SETS™
Abigail Fillmore
20
22
32
9,579
Jane Pierce
20
20
29
7,446
Buchanan's Liberty
27
28
38
7,038
Mary Lincoln
49
5,063
-4,946
12,817
Eliza Johnson
264
193
133
4,253
Julia Grant
1,569
763
2,332
2011 KENNEDY HALF-DOLLAR BAGS & ROLLS
200-coin bag (P&D)
306
107
0
5,479
2-roll set (P&D)
322
123
0
19,427
2010 KENNEDY HALF-DOLLAR BAGS & ROLLS
200-coin bag (P&D)
NLA
NLA
NLA
8,844
2-roll set (P&D)
NLA
NLA
NLA
36,203
2011 NATIVE AMERICAN GOLDEN DOLLAR ROLLS
25-coin roll set (P)
258
178
213
17,150
25-coin roll set (D)
281
148
189
17,149
2010 NATIVE AMERICAN GOLDEN DOLLAR ROLLS
25-coin roll set (P)
NLA
NLA
NLA
39,130
25-coin roll set (D)
NLA
NLA
NLA
38,879
PRESIDENTIAL $1 COIN COVERS
William Henry Harrison
37
14
17
29,558
John Tyler
34
12
16
26,320
James K. Polk
24
12
19
24,544
Zachary Taylor
33
15
21
23,515
Millard Fillmore
36
11
7
22,393
Franklin Pierce
33
13
14
20,767
James Buchanan
47
11
15
19,382
Abraham Lincoln
177
62
81
30,832
Andrew Johnson
195
79
100
16,737
Ulysses S. Grant
15,695
378
260
16,333
LINCOLN TWO-ROLL SETS
2010 Shield Cent
163
92
120
177,052
| | | | |
| --- | --- | --- | --- |
| | June | July | YTD 2011 |
| America the Beautiful Silver Bullion Coins | 26,300 | 11,400 | 364,500 |
| American Eagle Gold 1 oz | 56,000 | 33,500 | 541,000 |
| American Eagle Gold 1/2 oz | 0 | 3,000 | 58,000 |
| American Eagle Gold 1/4 oz | 8,000 | 0 | 64,000 |
| American Eagle Gold 1/10 oz | 35,000 | 5,000 | 255,000 |
| American Buffalo Gold 1 oz | 5,500 | 8,500 | 88,000 |
| American Eagle Silver 1 oz | 3,402,000 | 1,969,500 | 24,273,000 |