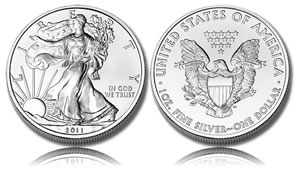 New US Mint sales figures include one debuting numismatic issue — the Grand Canyon Three-Coin Set — and another milestone for bullion American Silver Eagles, but the majority of weekly sales eased.
As for the 2011 America the Beautiful Quarters Silver Proof Set, its opening numbers remain a mystery since the Mint has yet to include it in their report.
Fans of America the Beautiful Quarter products grabbed 12,418 of the Grand Canyon Three-Coin Set, the newest product from the US Mint. Their opening number was the highest of the 3-Coin Sets so far, and each opener had been better than the last as the following table illustrates:
Three-Coin Set Debut Sales
Three-Coin Set
Release Date
Starting Number
Current Sales
Grand Canyon
Wednesday, April 13, 2011
12,418
12,418
Yosemite
Thursday, March 3, 2011
11,441
14,835
Yellowstone
Wednesday, January 5, 2011
11,115
17,280
Hot Springs
Wednesday, November 17, 2010
10,684
17,456
The new release also boosted weekly sales for the older Three-Coin Sets, as each one exceeded their prior week's advance. Yosemite climbed 384 versus 314, Yellowstone added 258 versus 146, and Hot Springs jumped by 223 versus 111.
In the race for best seller, the new Grand Canyon Quarter Set came in third. The top spot was taken by the 2011 Mint Set, which catapulted by 30,791, and the 2011 Proof Set barely earned the second spot with a gain of 12,430.
Sales of the Mint's silver sets have been suppressed by their temporary suspensions. The US Mint halted sales of the 2010-dated America the Beautiful Quarters Silver Proof Set and the 2010 Silver Proof Set on Friday, April 8 after silver prices jumped over $40 an ounce. Despite their unavailability, current sales rose by 559 and 266 respectively.
On Monday, the US Mint added two more products to their suspension list as silver prices continued to race to new 31-year highs. They were the 2011 America the Beautiful Quarters Silver Proof Set and the 2011 Silver Proof Set. It is likely the four sets will remain unavailable until there is some kind of stabilization in the precious metal's market.
Silver Eagles were the big winners in the bullion market. They advanced another 727,000 to crush the 14 million marker in annual sales. Their new total reached 14,530,000 and their April total landed at 2,101,000.
Other bullion posted gains as well. The one ounce Gold Eagles rose 13,000 following an 11,500 increase, and the half ounce Gold Eagle hit the chart for the first time in April with the addition of 1,000. The quarter-ounce also debuted, after 2,000 of its coins sold. The one-tenth ounce Gold Eagles added another 5,000. As for American Buffalo coins, they increased by 6,500.
The first three columns of the table below provide weekly US Mint sales increases between the listed time periods, offering a sense of recent trends. The final column provides the latest US Mint sales totals as of Sunday, April 17, 2011. Bullion coin tables are found toward the bottom, with the most recent sales as of Tuesday, April 19. (NLA = No Longer Available.)
US Mint Sales
Unit
Increase
Mar 28-

Apr 3
Unit
Increase
Apr 4-

Apr 10
Unit
Increase

Apr11-
Apr 17
Latest
Sales
Totals
2011 Medal of Honor Commemorative Coins
$5 Gold Proof
683
227
188
11,909
$5 Gold Uncirculated
325
103
72
4,739
$1 Silver Proof
4,291
1,840
1,966
74,851
$1 Silver Uncirculated
1,875
488
538
30,948
2011 U.S. Army Commemorative Coins
$5 Gold Proof
106
129
88
14,332
$5 Gold Uncirculated
53
47
39
5,540
$1 Silver Proof
760
1,288
1,359
94,530
$1 Silver Uncirculated
268
433
244
37,178
50¢ Clad Proof
360
434
443
56,095
50¢ Clad Uncirculated
54
269
194
33,262
2010 American Buffalo Gold Proof
470
454
174
48,278
FIRST SPOUSE GOLD COINS
Abigail Fillmore Proof (2010)
-13
42
30
6,003
Abigail Fillmore Uncirculated (2010)
-1
-98
0
3,489
Jane Pierce Proof (2010)
NLA
NLA
NLA
4,843
Jane Pierce Uncirculated (2010)
0
-158
0
3,333
Buchanan's Liberty Proof (2010)
NLA
NLA
NLA
7,304
Buchanan's Liberty Uncirculated (2010)
33
170
-10
5,354
Mary Lincoln Proof (2010)
61
83
58
5,880
Mary Lincoln Uncirculated (2010)
37
476
101
3,357
US MINT PROOF SETS
2011 America The Beautiful Quarters Silver Proof Set™
–
–
–
–
2011 America The Beautiful Quarters Proof Set™
10,776
4,454
2,749
71,923
2011 Presidential $1 Coin Proof Set™
-6,536
3,895
2,494
187,402
2011 United States Mint Silver Proof Set
14,839
13,998
10,447
384,124
2011 United States Mint Proof Set
13,103
14,543
12,430
664,984
2010 United States Mint Proof Set
1,016
1,221
924
1,079,676
2010 America the Beautiful Quarters Proof Set
490
604
421
264,806
2010 U.S. Mint Silver Proof Set™ (18-coin)
974
926
266
561,472
2010 Presidential $1 Coin Proof Set™
315
576
353
524,371
2010 America The Beautiful Quarters Silver Proof Set™
1,372
2,352
559
250,403
US MINT UNCIRCULATED SETS
2011 United States Mint Uncirculated Set
3,092
17,621
30,791
326,337
2010 United States Mint Uncirculated Set
489
1,277
630
568,983
2010 Presidential Uncirculated Dollar Coin Set™ (P&D)
121
164
147
95,254
2010 America the Beautiful Quarters Uncirculated Coin Set
115
145
154
24,707
2010 QUARTERS CIRCULATING COIN SET
112
143
118
15,938
2010 AMERICA THE BEAUTIFUL 3-COIN SET
Grand Canyon Quarters
12,418
12,418
Yosemite Quarters
360
314
384
14,835
Yellowstone Quarters
95
146
258
17,280
Hot Springs Quarters
74
111
223
17,456
GLACIER QUARTER QUARTER BAGS & ROLLS
100-coin bag (P)
2,697
187
2,884
100-coin bag (D)
2,655
180
2,835
Two-Roll Set (80 coin) (P&D)
19,927
1,102
21,029
GETTYSBURG QUARTER QUARTER BAGS & ROLLS
100-coin bag (P)
38
50
24
4,275
100-coin bag (D)
33
76
25
4,140
Two-Roll Set (80 coin) (P&D)
260
367
276
28,331
MOUNT HOOD QUARTER QUARTER BAGS & ROLLS
100-coin bag (P)
15
20
17
5,912
100-coin bag (D)
17
22
15
5,677
Two-Roll Set (80 coin) (P&D)
76
85
76
32,234
GRAND CANYON QUARTER QUARTER BAGS & ROLLS
100-coin bag (P)
7
19
12
6,474
100-coin bag (D)
10
20
12
6,812
Two-Roll Set (80 coin) (P&D)
69
60
66
34,109
YOSEMITE QUARTER QUARTER BAGS & ROLLS
100-coin bag (P)
12
10
11
7,048
100-coin bag (D)
12
17
14
7,092
Two-Roll Set (80 coin) (P&D)
59
58
51
36,697
YELLOWSTONE QUARTER QUARTER BAGS & ROLLS
100-coin bag (P)
21
12
11
8,240
100-coin bag (D)
11
18
13
8,714
Two-Roll Set (80 coin) (P&D)
47
63
45
41,821
HOT SPRINGS QUARTER BAGS & ROLLS
100-coin bag (P)
6
17
7
9,667
100-coin bag (D)
12
19
9
9,006
Two-Roll Set (80 coin) (P&D)
41
53
41
46,790
2009 JAMES K. POLK $1 COIN ROLLS
25-coin roll set (P)
16
15
17
42,476
25-coin roll set (D)
27
18
16
40,777
2009 ZACHARY TAYLOR $1 COIN ROLLS
25-coin roll set (P)
22
21
17
40,015
25-coin roll set (D)
35
22
13
38,147
2010 MILLARD FILLMORE $1 COIN ROLLS
25-coin roll set (P)
NLA
NLA
NLA
38,409
25-coin roll set (D)
NLA
NLA
NLA
36,634
2010 FRANKLIN PIERCE $1 COIN ROLLS
25-coin roll set (P)
28
35
23
35,484
25-coin roll set (D)
24
25
17
34,756
2010 JAMES BUCHANAN $1 COIN ROLLS
25-coin roll set (P)
29
45
34
33,747
25-coin roll set (D)
34
39
31
33,194
2010 ABRAHAM LINCOLN $1 COIN ROLLS
25-coin roll set (P)
144
128
189
48,437
25-coin roll set (D)
152
105
73
47,861
2011 ANDREW JOHNSON $1 COIN ROLLS
25-coin roll set (P)
-421
407
277
27,367
25-coin roll set (D)
-420
377
242
26,448
PRESIDENTIAL $1 COIN & FIRST SPOUSE MEDAL SETS™
Abigail Fillmore
9
13
10
9,379
Jane Pierce
10
13
8
7,245
Buchanan's Liberty
20
15
12
6,598
Mary Lincoln
105
85
99
11,863
2011 KENNEDY HALF-DOLLAR BAGS & ROLLS
200-coin bag (P&D)
30
201
127
3,615
2-roll set (P&D)
371
456
345
15,123
2010 KENNEDY HALF-DOLLAR BAGS & ROLLS
200-coin bag (P&D)
0
0
0
8,844
2-roll set (P&D)
-2
0
0
36,203
2011 NATIVE AMERICAN GOLDEN DOLLAR ROLLS
25-coin roll set (P)
9,655
1,612
685
11,952
25-coin roll set (D)
9,401
1,644
731
11,776
2010 NATIVE AMERICAN GOLDEN DOLLAR ROLLS
25-coin roll set (P)
-94
-2
0
39,134
25-coin roll set (D)
13
-1
-18
38,880
PRESIDENTIAL $1 COIN COVERS
William Henry Harrison
13
20
25
29,374
John Tyler
8
21
22
26,147
James K. Polk
10
19
19
24,364
Zachary Taylor
20
22
21
23,328
Millard Fillmore
11
19
26
22,227
Franklin Pierce
14
19
24
20,554
James Buchanan
30
23
33
19,102
Abraham Lincoln
154
121
205
29,738
Andrew Johnson
15,459
556
127
16,142
LINCOLN TWO-ROLL SETS
2010 Shield Cent
210
224
201
174,845
| | | | |
| --- | --- | --- | --- |
| | March | April | YTD 2011 |
| America the Beautiful Silver Bullion Coins | | | |
| American Eagle Gold 1 oz | 60,500 | 56,000 | 319,500 |
| American Eagle Gold 1/2 oz | 8,000 | 1,000 | 22,000 |
| American Eagle Gold 1/4 oz | 20,000 | 2,000 | 40,000 |
| American Eagle Gold 1/10 oz | 40,000 | 15,000 | 175,000 |
| American Buffalo Gold 1 oz | 38,000 | 12,500 | 50,500 |
| American Eagle Silver 1 oz | 2,767,000 | 2,101,000 | 14,530,000 |