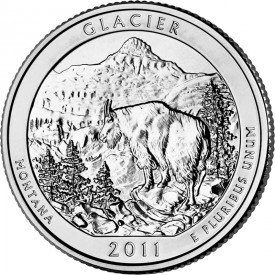 Three new 2011 America the Beautiful Quarter products appeared in the latest US Mint sales figures. They were the Glacier National Park Quarters Bags and Two-Rolls Sets. The 2011 Silver Quarters Proof Set's opening numbers, however, have yet to be announced.
The US Mint launched bags and rolls of Glacier National Park Quarters on Monday, April 4, and by Sunday, April 10 collectors picked up 19,927 of the two-roll sets, 2,697 of the Philadelphia stamped 100-coin bag, and 2,655 of the Denver 100-coin bag.
As a comparison, the 2011 Gettysburg National Military Park Quarter products opened a little stronger. Their bags and rolls launched on Thursday, January 27, and by Sunday, January 30 the Mint had sold 20,871 of the two-roll sets, 3,275 of the Philadelphia 100-coin bag, and 3,230 of the Denver 100-coin bag.
As for the 2011 America the Beautiful Quarters Silver Proof Set that debuted more than a week ago on Friday, April 1, 2011, the US Mint has not yet released their sales figures. Judging by the way other sets' sales increased, the newest silver quarters set looks to be having a positive impact.
The 2011 Mint Set climbed the most with 17,621. Previously, it had grown by 3,092. Another strong performer was the 2011 Proof Set. It added 14,543 to its total, which was up from 13,103 in the last round. The 2011 Silver Proof Set was not far behind with 13,998 in this report.
Only the Silver Eagles outperformed their prior gains among available bullion coins. Their total reached 13,803,000 after adding 715,500 since Wednesday, April 6. They advanced by 658,500 in the prior round. Gains for the other coins were soft in comparison. One ounce Gold Eagles rose 11,500 following a 31,500 increase last time. The one-tenth ounce Gold Eagles and the one ounce gold American Buffalos matched their prior additions with 5,000 and 3,000 respectively.
The first three columns of the table below provide weekly US Mint sales increases between the listed time periods, offering a sense of recent trends. The final column provides the latest US Mint sales totals as of Sunday, April 10, 2011. Bullion coin tables are found toward the bottom, with the most recent sales as of Tuesday, April 12. (NLA = No Longer Available.)
US Mint Sales
Unit
Increase
Mar 21-

Mar 27
Unit
Increase
Mar 28-

Apr 3
Unit
Increase

Apr4-
Apr 10
Latest
Sales
Totals
2011 Medal of Honor Commemorative Coins
$5 Gold Proof
853
683
227
11,721
$5 Gold Uncirculated
377
325
103
4,667
$1 Silver Proof
4,848
4,291
1,840
72,885
$1 Silver Uncirculated
1,800
1,875
488
30,410
2011 U.S. Army Commemorative Coins
$5 Gold Proof
188
106
129
14,244
$5 Gold Uncirculated
65
53
47
5,501
$1 Silver Proof
1,342
760
1,288
93,171
$1 Silver Uncirculated
522
268
433
36,934
50¢ Clad Proof
595
360
434
55,652
50¢ Clad Uncirculated
313
54
269
33,068
2010 American Buffalo Gold Proof
0
470
454
48,104
FIRST SPOUSE GOLD COINS
Abigail Fillmore Proof (2010)
70
-13
42
5,973
Abigail Fillmore Uncirculated (2010)
-75
-1
-98
3,489
Jane Pierce Proof (2010)
NLA
NLA
NLA
4,843
Jane Pierce Uncirculated (2010)
0
0
-158
3,333
Buchanan's Liberty Proof (2010)
NLA
NLA
NLA
7,304
Buchanan's Liberty Uncirculated (2010)
-418
33
170
5,364
Mary Lincoln Proof (2010)
39
61
83
5,822
Mary Lincoln Uncirculated (2010)
34
37
476
3,256
US MINT PROOF SETS
2011 America The Beautiful Quarters Silver Proof Set™
–
–
–
2011 America The Beautiful Quarters Proof Set™
0
10,776
4,454
69,174
2011 Presidential $1 Coin Proof Set™
3,300
-6,536
3,895
184,908
2011 United States Mint Silver Proof Set
19,640
14,839
13,998
373,677
2011 United States Mint Proof Set
13,829
13,103
14,543
652,554
2010 United States Mint Proof Set
966
1,016
1,221
1,078,752
2010 America the Beautiful Quarters Proof Set
546
490
604
264,385
2010 U.S. Mint Silver Proof Set™ (18-coin)
1,899
974
926
561,206
2010 Presidential $1 Coin Proof Set™
321
315
576
524,018
2010 America The Beautiful Quarters Silver Proof Set™
1,165
1,372
2,352
249,844
US MINT UNCIRCULATED SETS
2011 United States Mint Uncirculated Set
6,122
3,092
17,621
295,546
2010 United States Mint Uncirculated Set
651
489
1,277
568,353
2010 Presidential Uncirculated Dollar Coin Set™ (P&D)
168
121
164
95,107
2010 America the Beautiful Quarters Uncirculated Coin Set
157
115
145
24,553
2010 QUARTERS CIRCULATING COIN SET
125
112
143
15,820
2010 AMERICA THE BEAUTIFUL 3-COIN SET
Yosemite Quarters
310
360
314
14,451
Yellowstone Quarters
156
95
146
17,022
Hot Springs Quarters
111
74
111
17,233
GLACIER QUARTER QUARTER BAGS & ROLLS
100-coin bag (P)
2,697
2,697
100-coin bag (D)
2,655
2,655
Two-Roll Set (80 coin) (P&D)
19,927
19,927
GETTYSBURG QUARTER QUARTER BAGS & ROLLS
100-coin bag (P)
40
38
50
4,251
100-coin bag (D)
42
33
76
4,115
Two-Roll Set (80 coin) (P&D)
287
260
367
28,055
MOUNT HOOD QUARTER QUARTER BAGS & ROLLS
100-coin bag (P)
-3,011
15
20
5,895
100-coin bag (D)
-2,569
17
22
5,662
Two-Roll Set (80 coin) (P&D)
-17,115
76
85
32,158
GRAND CANYON QUARTER QUARTER BAGS & ROLLS
100-coin bag (P)
12
7
19
6,462
100-coin bag (D)
15
10
20
6,800
Two-Roll Set (80 coin) (P&D)
65
69
60
34,043
YOSEMITE QUARTER QUARTER BAGS & ROLLS
100-coin bag (P)
18
12
10
7,037
100-coin bag (D)
17
12
17
7,078
Two-Roll Set (80 coin) (P&D)
55
59
58
36,646
YELLOWSTONE QUARTER QUARTER BAGS & ROLLS
100-coin bag (P)
20
21
12
8,229
100-coin bag (D)
13
11
18
8,701
Two-Roll Set (80 coin) (P&D)
55
47
63
41,776
HOT SPRINGS QUARTER BAGS & ROLLS
100-coin bag (P)
13
6
17
9,660
100-coin bag (D)
10
12
19
8,997
Two-Roll Set (80 coin) (P&D)
52
41
53
46,749
2009 JAMES K. POLK $1 COIN ROLLS
25-coin roll set (P)
24
16
15
42,459
25-coin roll set (D)
19
27
18
40,761
2009 ZACHARY TAYLOR $1 COIN ROLLS
25-coin roll set (P)
17
22
21
39,998
25-coin roll set (D)
17
35
22
38,134
2010 MILLARD FILLMORE $1 COIN ROLLS
25-coin roll set (P)
NLA
NLA
NLA
38,409
25-coin roll set (D)
NLA
NLA
NLA
36,634
2010 FRANKLIN PIERCE $1 COIN ROLLS
25-coin roll set (P)
26
28
35
35,461
25-coin roll set (D)
18
24
25
34,739
2010 JAMES BUCHANAN $1 COIN ROLLS
25-coin roll set (P)
42
29
45
33,713
25-coin roll set (D)
30
34
39
33,163
2010 ABRAHAM LINCOLN $1 COIN ROLLS
25-coin roll set (P)
125
144
128
48,248
25-coin roll set (D)
96
152
105
47,788
2011 ANDREW JOHNSON $1 COIN ROLLS
25-coin roll set (P)
428
-421
407
27,090
25-coin roll set (D)
428
-420
377
26,206
PRESIDENTIAL $1 COIN & FIRST SPOUSE MEDAL SETS™
Abigail Fillmore
11
9
13
9,369
Jane Pierce
37
10
13
7,237
Buchanan's Liberty
68
20
15
6,586
Mary Lincoln
113
105
85
11,764
2011 KENNEDY HALF-DOLLAR BAGS & ROLLS
200-coin bag (P&D)
103
30
201
3,488
2-roll set (P&D)
420
371
456
14,778
2010 KENNEDY HALF-DOLLAR BAGS & ROLLS
200-coin bag (P&D)
-35
0
0
8,844
2-roll set (P&D)
-26
-2
0
36,203
2011 NATIVE AMERICAN GOLDEN DOLLAR ROLLS
25-coin roll set (P)
9,655
1,612
11,267
25-coin roll set (D)
9,401
1,644
11,045
2010 NATIVE AMERICAN GOLDEN DOLLAR ROLLS
25-coin roll set (P)
92
-94
-2
39,134
25-coin roll set (D)
68
13
-1
38,898
PRESIDENTIAL $1 COIN COVERS
William Henry Harrison
16
13
20
29,349
John Tyler
16
8
21
26,125
James K. Polk
15
10
19
24,345
Zachary Taylor
18
20
22
23,307
Millard Fillmore
21
11
19
22,201
Franklin Pierce
18
14
19
20,530
James Buchanan
22
30
23
19,069
Abraham Lincoln
141
154
121
29,533
Andrew Johnson
15,459
556
16,015
LINCOLN TWO-ROLL SETS
2010 Shield Cent
220
210
224
174,644
| | | | |
| --- | --- | --- | --- |
| | March | April | YTD 2011 |
| America the Beautiful Silver Bullion Coins | | | |
| American Eagle Gold 1 oz | 60,500 | 43,000 | 306,500 |
| American Eagle Gold 1/2 oz | 8,000 | 0 | 21,000 |
| American Eagle Gold 1/4 oz | 20,000 | 0 | 38,000 |
| American Eagle Gold 1/10 oz | 40,000 | 10,000 | 170,000 |
| American Buffalo Gold 1 oz | 38,000 | 6,000 | 44,000 |
| American Eagle Silver 1 oz | 2,767,000 | 1,374,000 | 13,803,000 |