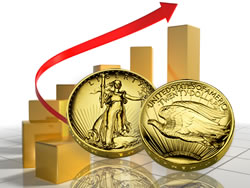 The 2011 Proof Set did it again. It outperformed its weekly sales increase for the second week in a row. Even more impressive was the fact that its sales beat out the uncirculated 2011 Mint Set that just launched on February 8.
According to the latest United States Mint sales figures, the Proof Set rose by 78,551. Previously it climbed 73,789. January 11 was its first selling date. The 2011 Mint Set, on the other hand, gained 20,053 during its second week on the charts. It debuted at 191,391.
Demand for the 2011 Silver Proof Set eased a little. Collectors took in 14,116 in this round versus 24,630 previously. The new total hit 271,264.
Also easing was demand for US Army Commemorative Coins. The proof Army silver dollars propelled the most with 7,951 after advancing 14,541 in the previous report. The proof clad half-dollar followed with 4,373. Its previous upward move had been 9,301.
US Mint 2011 Kennedy Half Dollar Bags & Rolls debuted on Tuesday, February 15. Between its launch and Sunday, February 20, opening sales were 2,114 for the 200-coin bags and 8,841 for the Two-Roll Sets. Although the 2010 strikes were pulled from the Mint's line-up, the old Two-Roll Set picked up 310 in its final days while the 200-coin bags declined by -2.
Two unusual events occurred in this report. First, the US Mint did not publish the latest total for the 2010 Proof Set for the second straight week. The set is still available on the Mint's website. The second interesting thing was the huge decline in Abraham Lincoln's Presidential $1 Coin Cover total. It was reduced by -787 and winded up at 28,165. Normally, Lincoln's covers grew by four or five hundred.
In the bullion arena, Silver Eagles showed no signs of slowing down. The US Mint sold 894,000 since last Tuesday to its Authorized Purchasers compared to the prior round's 768,500 jump. February's new total landed at 2,599,500, and annual sales rolled in at 9,021,500.
The first three columns of the table below provide weekly US Mint sales increases between the listed time periods, offering a sense of recent trends. The final column provides the latest US Mint sales totals as of Sunday, February 20, 2011. Bullion coin tables are found toward the bottom, with the most recent sales as of Tuesday, February 22. (NLA = No Longer Available.)
US Mint Sales
Unit
Increase
Jan 31-
Feb 6
Unit
Increase
Feb 7-
Feb 13
Unit
Increase
Feb 14-
Feb 20
Latest
Sales
Totals
2011 U.S. Army Commemorative Coins
$5 Gold Proof
7,861
2,108
1,092
11,061
$5 Gold Uncirculated
3,045
758
375
4,178
$1 Silver Proof
46,895
14,541
7,951
69,387
$1 Silver Uncirculated
20,698
5,520
2,705
28,923
50¢ Clad Proof
30,162
9,301
4,373
43,836
50¢ Clad Uncirculated
19,528
4,292
2,403
26,223
2010 American Buffalo Gold Proof
302
342
290
45,870
FIRST SPOUSE GOLD COINS
Abigail Fillmore Proof (2010)
32
14
130
5,726
Abigail Fillmore Uncirculated (2010)
22
31
38
3,404
Jane Pierce Proof (2010)
33
22
129
4,806
Jane Pierce Uncirculated (2010)
17
131
152
3,147
Buchanan's Liberty Proof (2010)
226
-3
-1
7,313
Buchanan's Liberty Uncirculated (2010)
35
113
161
4,735
Mary Lincoln Proof (2010)
124
45
96
5,335
Mary Lincoln Uncirculated (2010)
69
27
54
2,613
US MINT PROOF SETS
2011 United States Mint Silver Proof Set
23,151
24,630
14,116
271,264
2011 United States Mint Proof Set
20,473
73,789
78,551
473,620
2010 United States Mint Proof Set
2,752
0
0
1,060,329
2010 America the Beautiful Quarters Proof Set
558
818
504
260,367
2010 U.S. Mint Silver Proof Set™ (18-coin)
3,213
3,532
3,135
538,973
2010 Presidential $1 Coin Proof Set™
812
1,456
597
520,150
2010 America The Beautiful Quarters Silver Proof Set™
1,559
1,162
2,817
239,500
US MINT UNCIRCULATED SETS
2011 United States Mint Uncirculated Set
191,391
20,053
211,444
2010 United States Mint Uncirculated Set
1,291
1,861
1,080
562,115
2010 Presidential Uncirculated Dollar Coin Set™ (P&D)
329
350
232
93,364
2010 America the Beautiful Quarters Uncirculated Coin Set
434
427
407
23,035
2010 QUARTERS CIRCULATING COIN SET
298
299
179
14,560
2010 AMERICA THE BEAUTIFUL 3-COIN SET
Yellowstone Quarters
749
694
116
15,601
Hot Springs Quarters
232
185
103
16,104
GETTYSBURG QUARTER QUARTER BAGS & ROLLS
100-coin bag (P)
359
198
21
3,853
100-coin bag (D)
327
192
-13
3,736
Two-Roll Set (80 coin) (P&D)
2,302
1,312
807
25,292
MOUNT HOOD QUARTER QUARTER BAGS & ROLLS
100-coin bag (P)
33
24
18
5,756
100-coin bag (D)
40
24
22
5,516
Two-Roll Set (80 coin) (P&D)
211
200
141
31,442
GRAND CANYON QUARTER QUARTER BAGS & ROLLS
100-coin bag (P)
26
33
38
6,346
100-coin bag (D)
35
31
27
6,676
Two-Roll Set (80 coin) (P&D)
145
135
108
33,490
YOSEMITE QUARTER QUARTER BAGS & ROLLS
100-coin bag (P)
19
21
22
6,934
100-coin bag (D)
22
30
18
6,977
Two-Roll Set (80 coin) (P&D)
107
103
78
36,118
YELLOWSTONE QUARTER QUARTER BAGS & ROLLS
100-coin bag (P)
28
25
20
8,102
100-coin bag (D)
33
18
15
8,583
Two-Roll Set (80 coin) (P&D)
114
106
77
41,270
HOT SPRINGS QUARTER BAGS & ROLLS
100-coin bag (P)
25
16
17
9,565
100-coin bag (D)
27
22
20
8,901
Two-Roll Set (80 coin) (P&D)
84
92
61
46,345
2009 JAMES K. POLK $1 COIN ROLLS
25-coin roll set (P)
29
18
28
42,298
25-coin roll set (D)
31
25
29
40,598
2009 ZACHARY TAYLOR $1 COIN ROLLS
25-coin roll set (P)
26
17
32
39,814
25-coin roll set (D)
30
24
23
37,952
2010 MILLARD FILLMORE $1 COIN ROLLS
25-coin roll set (P)
40
28
52
38,390
25-coin roll set (D)
38
35
44
36,616
2010 FRANKLIN PIERCE $1 COIN ROLLS
25-coin roll set (P)
44
59
54
35,200
25-coin roll set (D)
45
59
48
34,528
2010 JAMES BUCHANAN $1 COIN ROLLS
25-coin roll set (P)
74
105
79
33,362
25-coin roll set (D)
65
100
72
32,867
2010 ABRAHAM LINCOLN $1 COIN ROLLS
25-coin roll set (P)
393
410
296
46,961
25-coin roll set (D)
354
282
268
46,649
PRESIDENTIAL $1 COIN & FIRST SPOUSE MEDAL SETS™
Abigail Fillmore
20
40
13
9,257
Jane Pierce
27
47
20
7,117
Buchanan's Liberty
48
66
22
6,389
Mary Lincoln
465
310
158
10,839
2011 KENNEDY HALF-DOLLAR BAGS & ROLLS
200-coin bag (P&D)
2,114
2,114
2-roll set (P&D)
8,841
8,841
2010 KENNEDY HALF-DOLLAR BAGS & ROLLS
200-coin bag (P&D)
0
0
-2
8,844
2-roll set (P&D)
209
549
310
36,197
2010 NATIVE AMERICAN GOLDEN DOLLAR ROLLS
25-coin roll set (P)
128
333
114
38,623
25-coin roll set (D)
132
225
116
38,306
PRESIDENTIAL $1 COIN COVERS
William Henry Harrison
19
25
13
29,194
John Tyler
13
31
12
25,988
James K. Polk
18
31
18
24,214
Zachary Taylor
18
37
19
23,149
Millard Fillmore
24
30
13
22,050
Franklin Pierce
36
50
21
20,370
James Buchanan
69
67
48
18,834
Abraham Lincoln
502
459
-787
28,165
LINCOLN TWO-ROLL SETS
2010 Shield Cent
379
378
372
172,574
| | | | |
| --- | --- | --- | --- |
| | January | February | 2011 TOTALS |
| America the Beautiful Silver Bullion Coins | | | 0 |
| American Eagle Gold 1 oz | 130,500 | 58,500 | 189,000 |
| American Eagle Gold 1/2 oz | 1,000 | 8,000 | 9,000 |
| American Eagle Gold 1/4 oz | 2,000 | 16,000 | 18,000 |
| American Eagle Gold 1/10 oz | 20,000 | 100,000 | 120,000 |
| American Buffalo Gold 1 oz | | | 0 |
| American Eagle Silver 1 oz | 6,422,000 | 2,599,500 | 9,021,500 |