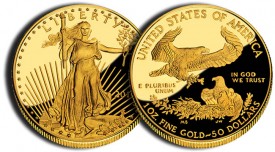 The newest appearance in the US Mint sales figures include the 2011 Proof Gold Eagle coins and two of the 2011 America the Beautiful five ounce Silver Bullion Coins.
The US Mint sold 29,353 Proof Gold Eagles between their launch on Thursday, April 21 and Sunday, April 24. Broken out, it was 13,401 of the individual coins and 3,988 of the Four-Coin sets. The debut sales were not as strong as 2010's opening numbers, but they were stronger than 2008's debut. The US Mint did not strike proof gold Eagles in 2009.
2011 Proof Gold Eagle Debut Sales
Size
2011 4-Day Sales
2010 4-Day Sales
2008 6-Day Sales
1 oz proof Gold Eagles
7,249
13,980
3,120
1/2 oz proof Gold Eagles
1,159
2,173
598
1/4 oz proof Gold Eagles
1,313
2,780
518
1/10 oz proof Gold Eagles
3,680
6,945
1,347
4-Coin Set
3,988
7,147
1,691
The 2011 America the Beautiful Quarters Uncirculated Coin Set was also released during the week, on Tuesday, April 19, but the Mint did not include it in their sales report. The numbers for the 2011 America the Beautiful Quarters Silver Proof Set, however, were finally noted. Three weeks after their debut, the Quarters Silver Proof Set officially entered the sales table for the first time. They went on sale April 1 and hit 78,054 sometime during the first 18 days. Sales of the silver quarters set was temporarily suspended back on Monday, April 18.
To get an idea of how popular the America the Beautiful series has become, the clad 2011 Quarters Proof Set, which has slightly more than five weeks of sales under its belt, brought its sales total up to 75,207 after adding 3,284 in this round.
As mentioned earlier, the US Mint began accepting orders for the first two of the 2011 America the Beautiful five ounce silver bullion coins from their established network of Authorized Purchasers on Monday, April 25. In one day, they sold 153,400 coins. The two that were made available were the Gettysburg Silver Bullion Coin (Pennsylvania) and Glacier Silver Bullion Coin (Montana).
Other silver bullion coins also rocked and rolled. Silver Eagles added another 718,000 to their weekly numbers, so their month-to-date figure surpassed March's total by 52,000 when it rolled in at 2,819,000. Now the Silver Eagle's year-to-date sales cleared the 15 million marker and is sitting at 15,248,000.
The bullion Gold Eagles charged ahead as well. The one ounce Gold Eagle climbed 22,500 and the one tenth ounce rose 15,000. Next came the quarter ounce version with a gain of 12,000.
The first three columns of the table below provide weekly US Mint sales increases between the listed time periods, offering a sense of recent trends. The final column provides the latest US Mint sales totals as of Sunday, April 24, 2011. Bullion coin tables are found toward the bottom, with the most recent sales as of Tuesday, April 26. (NLA = No Longer Available.)
US Mint Sales
Unit
Increase
Apr 4-

Apr 10
Unit
Increase
Apr 11-

Apr 17
Unit
Increase

Apr18-
Apr 24
Latest
Sales
Totals
2011 American Eagle Gold Proof Coins
One ounce
7,249
7,249
One-half ounce
1,159
1,159
One-quarter ounce
1,313
1,313
One-tenth ounce
3,680
3,680
Four-coin set
3,988
3,988
2011 Medal of Honor Commemorative Coins
$5 Gold Proof
227
188
564
12,473
$5 Gold Uncirculated
103
72
167
4,906
$1 Silver Proof
1,840
1,966
3,907
78,758
$1 Silver Uncirculated
488
538
1,319
32,267
2011 U.S. Army Commemorative Coins
$5 Gold Proof
129
88
195
14,527
$5 Gold Uncirculated
47
39
82
5,622
$1 Silver Proof
1,288
1,359
1,818
96,348
$1 Silver Uncirculated
433
244
580
37,758
50¢ Clad Proof
434
443
496
56,591
50¢ Clad Uncirculated
269
194
153
33,415
2010 American Buffalo Gold Proof
454
174
623
48,901
FIRST SPOUSE GOLD COINS
Abigail Fillmore Proof (2010)
42
30
90
6,093
Abigail Fillmore Uncirculated (2010)
-98
0
0
3,489
Jane Pierce Proof (2010)
NLA
NLA
NLA
4,843
Jane Pierce Uncirculated (2010)
-158
0
0
3,333
Buchanan's Liberty Proof (2010)
NLA
NLA
NLA
7,304
Buchanan's Liberty Uncirculated (2010)
170
-10
-1
5,353
Mary Lincoln Proof (2010)
83
58
53
5,933
Mary Lincoln Uncirculated (2010)
476
101
85
3,442
US MINT PROOF SETS
2011 America The Beautiful Quarters Silver Proof Set™
78,054
78,054
2011 America The Beautiful Quarters Proof Set™
4,454
2,749
3,284
75,207
2011 Presidential $1 Coin Proof Set™
3,895
2,494
3,278
190,680
2011 United States Mint Silver Proof Set
13,998
10,447
-6
384,118
2011 United States Mint Proof Set
14,543
12,430
11,836
676,820
2010 United States Mint Proof Set
1,221
924
1,349
1,081,025
2010 America the Beautiful Quarters Proof Set
604
421
583
265,389
2010 U.S. Mint Silver Proof Set™ (18-coin)
926
266
-107
561,365
2010 Presidential $1 Coin Proof Set™
576
353
362
524,733
2010 America The Beautiful Quarters Silver Proof Set™
2,352
559
-8
250,395
US MINT UNCIRCULATED SETS
2011 United States Mint Uncirculated Set
17,621
30,791
17,210
343,547
2010 United States Mint Uncirculated Set
1,277
630
641
569,624
2010 Presidential Uncirculated Dollar Coin Set™ (P&D)
164
147
0
95,254
2011 America the Beautiful Quarters Uncirculated Coin Set
–
–
2010 America the Beautiful Quarters Uncirculated Coin Set
145
154
523
25,230
2010 America the Beautiful Quarters "Circulated" Coin Set
143
118
288
16,226
2010 AMERICA THE BEAUTIFUL 3-COIN SET
Grand Canyon Quarters
12,418
960
13,378
Yosemite Quarters
314
384
159
14,994
Yellowstone Quarters
146
258
223
17,503
Hot Springs Quarters
111
223
178
17,634
GLACIER QUARTER QUARTER BAGS & ROLLS
100-coin bag (P)
2,697
187
122
3,006
100-coin bag (D)
2,655
180
115
2,950
Two-Roll Set (80 coin) (P&D)
19,927
1,102
906
21,935
GETTYSBURG QUARTER QUARTER BAGS & ROLLS
100-coin bag (P)
50
24
39
4,314
100-coin bag (D)
76
25
37
4,177
Two-Roll Set (80 coin) (P&D)
367
276
269
28,600
MOUNT HOOD QUARTER QUARTER BAGS & ROLLS
100-coin bag (P)
20
17
9
5,921
100-coin bag (D)
22
15
7
5,684
Two-Roll Set (80 coin) (P&D)
85
76
73
32,307
GRAND CANYON QUARTER QUARTER BAGS & ROLLS
100-coin bag (P)
19
12
12
6,486
100-coin bag (D)
20
12
14
6,826
Two-Roll Set (80 coin) (P&D)
60
66
70
34,179
YOSEMITE QUARTER QUARTER BAGS & ROLLS
100-coin bag (P)
10
11
15
7,063
100-coin bag (D)
17
14
10
7,102
Two-Roll Set (80 coin) (P&D)
58
51
40
36,737
YELLOWSTONE QUARTER QUARTER BAGS & ROLLS
100-coin bag (P)
12
11
20
8,260
100-coin bag (D)
18
13
19
8,733
Two-Roll Set (80 coin) (P&D)
63
45
53
41,874
HOT SPRINGS QUARTER BAGS & ROLLS
100-coin bag (P)
17
7
6
9,673
100-coin bag (D)
19
9
7
9,013
Two-Roll Set (80 coin) (P&D)
53
41
17
46,807
2009 JAMES K. POLK $1 COIN ROLLS
25-coin roll set (P)
15
17
21
42,497
25-coin roll set (D)
18
16
17
40,794
2009 ZACHARY TAYLOR $1 COIN ROLLS
25-coin roll set (P)
21
17
21
40,036
25-coin roll set (D)
22
13
27
38,174
2010 MILLARD FILLMORE $1 COIN ROLLS
25-coin roll set (P)
NLA
NLA
NLA
38,409
25-coin roll set (D)
NLA
NLA
NLA
36,634
2010 FRANKLIN PIERCE $1 COIN ROLLS
25-coin roll set (P)
35
23
29
35,513
25-coin roll set (D)
25
17
26
34,782
2010 JAMES BUCHANAN $1 COIN ROLLS
25-coin roll set (P)
45
34
42
33,789
25-coin roll set (D)
39
31
38
33,232
2010 ABRAHAM LINCOLN $1 COIN ROLLS
25-coin roll set (P)
128
189
120
48,557
25-coin roll set (D)
105
73
115
47,976
2011 ANDREW JOHNSON $1 COIN ROLLS
25-coin roll set (P)
407
277
313
27,680
25-coin roll set (D)
377
242
288
26,736
PRESIDENTIAL $1 COIN & FIRST SPOUSE MEDAL SETS™
Abigail Fillmore
13
10
0
9,379
Jane Pierce
13
8
7
7,252
Buchanan's Liberty
15
12
16
6,614
Mary Lincoln
85
99
0
11,863
2011 KENNEDY HALF-DOLLAR BAGS & ROLLS
200-coin bag (P&D)
201
127
282
3,897
2-roll set (P&D)
456
345
542
15,665
2010 KENNEDY HALF-DOLLAR BAGS & ROLLS
200-coin bag (P&D)
0
0
0
8,844
2-roll set (P&D)
0
0
0
36,203
2011 NATIVE AMERICAN GOLDEN DOLLAR ROLLS
25-coin roll set (P)
1,612
685
898
12,850
25-coin roll set (D)
1,644
731
919
12,695
2010 NATIVE AMERICAN GOLDEN DOLLAR ROLLS
25-coin roll set (P)
-2
0
-3
39,131
25-coin roll set (D)
-1
-18
-2
38,878
PRESIDENTIAL $1 COIN COVERS
William Henry Harrison
20
25
10
29,384
John Tyler
21
22
9
26,156
James K. Polk
19
19
14
24,378
Zachary Taylor
22
21
13
23,341
Millard Fillmore
19
26
17
22,244
Franklin Pierce
19
24
20
20,574
James Buchanan
23
33
34
19,136
Abraham Lincoln
121
205
104
29,842
Andrew Johnson
556
127
220
16,362
LINCOLN TWO-ROLL SETS
2010 Shield Cent
224
201
234
175,079
| | | | |
| --- | --- | --- | --- |
| | March | April | YTD 2011 |
| America the Beautiful Silver Bullion Coins | N/A | 153,400 | 153,400 |
| American Eagle Gold 1 oz | 60,500 | 78,500 | 342,000 |
| American Eagle Gold 1/2 oz | 8,000 | 5,000 | 26,000 |
| American Eagle Gold 1/4 oz | 20,000 | 14,000 | 52,000 |
| American Eagle Gold 1/10 oz | 40,000 | 30,000 | 190,000 |
| American Buffalo Gold 1 oz | 38,000 | 17,000 | 55,000 |
| American Eagle Silver 1 oz | 2,767,000 | 2,819,000 | 15,248,000 |