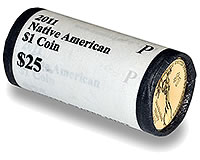 Two numismatic products hit the charts. 2011 Native American $ 1 Coin Two-Roll Sets and Andrew Johnson Presidential $1 Coin Covers debuted in the latest United States Mint sales figures. Meanwhile, remaining sales were mixed and bullion Silver Eagles continued to shine.
The US Mint made the 2011 Native American $ 1 Coin Two-Roll Sets available on Monday, March 28, and by Sunday, April 3 a combined total of 19,056 sets sold. Broken out, 9,655 were the 25-coin roll sets from Philadelphia and the remaining 9,401 were sets from Denver.
Collectors took in 15,459 of the Andrew Johnson Presidential $1 Coin Covers that opened on Thursday, March 31. The US Mint maximum production limit for the covers is 22,000 units, so 6,541 remain.
The only new item that was not reported was the 2011 America the Beautiful Quarters Silver Proof Set that started on Friday, April 1, 2011. Their opening numbers will most likely appear in the next round.
The 2011 Silver Proof Set is still selling well and jumped by 14,839 in this week's figures. Previously, they grew by 19,640. The 2011 Proof Set trailed with 13,103. In the last round, the proof sets gained 13,829.
The biggest fall in total sales was the 2011 Presidential $1 Coin Proof Set. It tumbled by -6,536. In the prior two weeks, collectors picked up 4,102 and 3,300.
As for American Eagles, the one ounce silver version advanced another 658,500 during the week while the one ounce gold version rose by 31,500. Silver Eagles eased into the 13 million bracket with 13,087,500 for their 2011 total, and the one ounce Gold Eagles were just a little shy of 300K with their 295,000 total.
The first three columns of the table below provide weekly US Mint sales increases between the listed time periods, offering a sense of recent trends. The final column provides the latest US Mint sales totals as of Sunday, April 3, 2011. Bullion coin tables are found toward the bottom, with the most recent sales as of Wednesday, April 6. (NLA = No Longer Available.)
US Mint Sales
Unit
Increase

Mar 14-

Mar 20
Unit
Increase

Mar 21-

Mar 27
Unit
Increase

Mar28-

Apr 3
Latest
Sales
Totals
2011 Medal of Honor Commemorative Coins
$5 Gold Proof
756
853
683
11,494
$5 Gold Uncirculated
306
377
325
4,564
$1 Silver Proof
5,772
4,848
4,291
71,045
$1 Silver Uncirculated
2,985
1,800
1,875
29,922
2011 U.S. Army Commemorative Coins
$5 Gold Proof
200
188
106
14,115
$5 Gold Uncirculated
97
65
53
5,454
$1 Silver Proof
2,069
1,342
760
91,883
$1 Silver Uncirculated
658
522
268
36,501
50¢ Clad Proof
918
595
360
55,218
50¢ Clad Uncirculated
597
313
54
32,799
2010 American Buffalo Gold Proof
263
0
470
47,650
FIRST SPOUSE GOLD COINS
Abigail Fillmore Proof (2010)
84
70
-13
5,931
Abigail Fillmore Uncirculated (2010)
117
-75
-1
3,587
Jane Pierce Proof (2010)
0
NLA
NLA
4,843
Jane Pierce Uncirculated (2010)
186
0
0
3,491
Buchanan's Liberty Proof (2010)
0
NLA
NLA
7,304
Buchanan's Liberty Uncirculated (2010)
493
-418
33
5,194
Mary Lincoln Proof (2010)
87
39
61
5,739
Mary Lincoln Uncirculated (2010)
1
34
37
2,780
US MINT PROOF SETS
2011 America The Beautiful Quarters Proof Set™
53,944
0
10,776
64,720
2011 Presidential $1 Coin Proof Set™
4,102
3,300
-6,536
181,013
2011 United States Mint Silver Proof Set
25,940
19,640
14,839
359,679
2011 United States Mint Proof Set
21,581
13,829
13,103
638,011
2010 United States Mint Proof Set
1,651
966
1,016
1,077,531
2010 America the Beautiful Quarters Proof Set
582
546
490
263,781
2010 U.S. Mint Silver Proof Set™ (18-coin)
2,026
1,899
974
560,280
2010 Presidential $1 Coin Proof Set™
317
321
315
523,442
2010 America The Beautiful Quarters Silver Proof Set™
618
1,165
1,372
247,492
US MINT UNCIRCULATED SETS
2011 United States Mint Uncirculated Set
8,198
6,122
3,092
277,925
2010 United States Mint Uncirculated Set
704
651
489
567,076
2010 Presidential Uncirculated Dollar Coin Set™ (P&D)
172
168
121
94,943
2010 America the Beautiful Quarters Uncirculated Coin Set
170
184
157
24,293
2010 QUARTERS CIRCULATING COIN SET
141
125
112
15,677
2010 AMERICA THE BEAUTIFUL 3-COIN SET
Yosemite Quarters
631
310
360
14,137
Yellowstone Quarters
198
156
95
16,876
Hot Springs Quarters
196
111
74
17,122
GETTYSBURG QUARTER QUARTER BAGS & ROLLS
100-coin bag (P)
47
40
38
4,201
100-coin bag (D)
39
42
33
4,039
Two-Roll Set (80 coin) (P&D)
371
287
260
27,688
MOUNT HOOD QUARTER QUARTER BAGS & ROLLS
100-coin bag (P)
3,037
-3,011
15
5,875
100-coin bag (D)
2,595
-2,569
17
5,640
Two-Roll Set (80 coin) (P&D)
17,281
-17,115
76
32,073
GRAND CANYON QUARTER QUARTER BAGS & ROLLS
100-coin bag (P)
10
12
7
6,443
100-coin bag (D)
6
15
10
6,780
Two-Roll Set (80 coin) (P&D)
74
65
69
33,983
YOSEMITE QUARTER QUARTER BAGS & ROLLS
100-coin bag (P)
9
18
12
7,027
100-coin bag (D)
9
17
12
7,061
Two-Roll Set (80 coin) (P&D)
71
55
59
36,588
YELLOWSTONE QUARTER QUARTER BAGS & ROLLS
100-coin bag (P)
8
20
21
8,217
100-coin bag (D)
11
13
11
8,683
Two-Roll Set (80 coin) (P&D)
61
55
47
41,713
HOT SPRINGS QUARTER BAGS & ROLLS
100-coin bag (P)
16
13
6
9,643
100-coin bag (D)
11
10
12
8,978
Two-Roll Set (80 coin) (P&D)
52
52
41
46,696
2009 JAMES K. POLK $1 COIN ROLLS
25-coin roll set (P)
28
24
16
42,444
25-coin roll set (D)
30
19
27
40,743
2009 ZACHARY TAYLOR $1 COIN ROLLS
25-coin roll set (P)
36
17
22
39,977
25-coin roll set (D)
30
17
35
38,112
2010 MILLARD FILLMORE $1 COIN ROLLS
25-coin roll set (P)
0
0
0
38,409
25-coin roll set (D)
0
0
0
36,634
2010 FRANKLIN PIERCE $1 COIN ROLLS
25-coin roll set (P)
45
26
28
35,426
25-coin roll set (D)
42
18
24
34,714
2010 JAMES BUCHANAN $1 COIN ROLLS
25-coin roll set (P)
52
42
29
33,668
25-coin roll set (D)
38
30
34
33,124
2010 ABRAHAM LINCOLN $1 COIN ROLLS
25-coin roll set (P)
188
125
144
48,120
25-coin roll set (D)
161
96
152
47,683
2011 ANDREW JOHNSON $1 COIN ROLLS
25-coin roll set (P)
608
428
-421
26,683
25-coin roll set (D)
526
428
-420
25,829
PRESIDENTIAL $1 COIN & FIRST SPOUSE MEDAL SETS™
Abigail Fillmore
32
11
9
9,356
Jane Pierce
0
37
10
7,224
Buchanan's Liberty
0
68
20
6,571
Mary Lincoln
90
113
105
11,679
2011 KENNEDY HALF-DOLLAR BAGS & ROLLS
200-coin bag (P&D)
216
103
30
3,287
2-roll set (P&D)
489
420
371
14,322
2010 KENNEDY HALF-DOLLAR BAGS & ROLLS
200-coin bag (P&D)
35
-35
0
8,844
2-roll set (P&D)
30
-26
-2
36,203
2011 NATIVE AMERICAN GOLDEN DOLLAR ROLLS
25-coin roll set (P)
9,655
9,655
25-coin roll set (D)
9,401
9,401
2010 NATIVE AMERICAN GOLDEN DOLLAR ROLLS
25-coin roll set (P)
1,100
92
-94
39,136
25-coin roll set (D)
91
68
13
38,899
PRESIDENTIAL $1 COIN COVERS
William Henry Harrison
19
16
13
29,329
John Tyler
18
16
8
26,104
James K. Polk
20
15
10
24,326
Zachary Taylor
20
18
20
23,285
Millard Fillmore
17
21
11
22,182
Franklin Pierce
20
18
14
20,511
James Buchanan
26
22
30
19,046
Abraham Lincoln
156
141
154
29,412
Andrew Johnson
15,459
15,459
LINCOLN TWO-ROLL SETS
2010 Shield Cent
301
220
210
174,420
| | | | |
| --- | --- | --- | --- |
| | March | April | YTD 2011 |
| America the Beautiful Silver Bullion Coins | | | |
| American Eagle Gold 1 oz | 60,500 | 31,500 | 295,000 |
| American Eagle Gold 1/2 oz | 8,000 | 0 | 21,000 |
| American Eagle Gold 1/4 oz | 20,000 | 0 | 38,000 |
| American Eagle Gold 1/10 oz | 40,000 | 5,000 | 165,000 |
| American Buffalo Gold 1 oz | 38,000 | 3,000 | 41,000 |
| American Eagle Silver 1 oz | 2,767,000 | 658,500 | 13,087,500 |