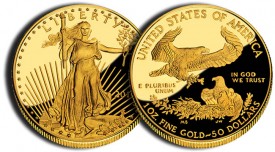 Once again United States Mint prices moved higher for numismatic Gold Eagles, the Gold Buffalo and First Spouse Gold Coins. The Mint increased their prices on Wednesday, January 25, as a result of the upward trend on the London Fix, the market indicator in the Mint's pricing policy. (In related news, check out the 2012 Numismatic Prices article for recently announced prices of upcoming Mint products for this year.)
Only collector coins containing gold were effected and not the Proof Platinum Eagle, since the price of platinum has not moved in any direction firmly enough to cause an adjustment The total number of United States Mint products with higher prices include eight First Spouse coins, the Buffalo, and three Gold Eagles.
New US Mint Prices for Numismatic Gold Coins
| | | |
| --- | --- | --- |
| Numismatic Coin | New Prices | Difference |
| 4 First Spouse Uncirculated Coins | $991.00 | +$25.00 |
| 4 First Spouse Proof Coins | $1,004.00 | +$25.00 |
| American Buffalo Coin | $1,960.00 | +$50.00 |
| American Eagle Proof Coin 1/2 oz. | $981.00 | +$25.00 |
| American Eagle Proof Coin 1/10 oz. | $215.50 | +$5.00 |
| American Gold Eagle 4-Coin Proof Set | $3,585.50 | +$92.50 |
The First Spouse Gold Coins listed above honor and feature the portraits of Lucretia Garfield, Lucy Hayes, Julia Grant and Eliza Johnson.
The level that the average London Fix gold price climbed to is within the $1,650.00 and $1,699.99 an ounce range. If gold swings beyond those points, then the United States Mint will adjust coin prices again. The average is calculated each Wednesday morning, taking prices from each prior day thru to the previous Thursday.
All of the above coins are 2011-dated and minted for coin collectors. The United States Mint is yet to release any 2012-dated gold coins for collectors, although it has launched the bullion 2012 American Eagles intended for investors.