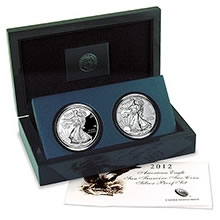 Sales started for the 2012 San Francisco Proof Silver Eagle Coin Set on Thursday, June 7, at noon Eastern Time. By 3 PM the next day, collectors purchased 85,341. In one-week, sales were at 128,540. At a price of $149.95, the United States Mint's revenue hit $19,274,573.
The opener was slower than the five-coin American Eagle 25th Anniversary Silver Coin Set that went on sale last October and sold out of 100,000 orders in under five hours.
Some had expected sales of the new Proof Silver Eagle Coin Set would be higher in its start, even surpassing the Anniversary set since the U.S. Mint is producing the newest set to meet demand and not capping sales with either a mintage or order limit. Perhaps many potential buyers decided to wait.
It was reported that placing an order in those first few hours was difficult on Thursday, much like it was last October. The United States Mint's website locked up periodically or was extremely slow while the phone systems were busy for some time.
To ease collectors' curiosity about how many sets sell, the bureau posted an estimated sales gauge on the Proof Silver Eagle Coin Set product page and will update it each afternoon during the week.
The posted number is not precise, the U.S. Mint cautions, because the number is not accounting for problem orders or cancellations. Cancellations, in fact, could rise. Since shipments will not begin until after the Mint stops accepting orders, it is possible that some may cancel their order if sales are uncomfortably high, as an example. The estimated first day of shipping is July 27, 2012.
Specifically, the warning says,"*Data for cumulative total units ordered is updated daily, Monday through Friday, at about 3 p.m. (ET) and is an approximation of total units ordered from the United States Mint through all of its active sales channels. This data is provided for informational purposes only and should not be construed to represent accepted orders or actual sales figures."
Next to the approximated figure on the U.S. Mint web page is a countdown for the several days remaining before the ordering deadline of July 5, 2012. When the set went on sale, the time limit was four weeks, or 28 days. As of this writing, 21 days remain.