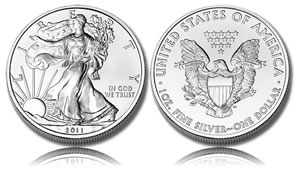 The United States Mint this week announced that beginning on May 31 it would begin fulfilling orders for investment-grade 2011 American Silver Eagle Bullion Coins from new supplies produced at its facility located in San Francisco, as well as those minted from West Point.
For years, the bullion versions of the American Silver Eagle have been struck only at the West Point Mint. The switch to use to both facilities is in response to unprecedented demand for the bullion coins, according to the Mint.
As a testimony to recent demand, all but one of the top fifteen monthly Silver Eagle sales records belongs to a month within the last two and a half years. May 2011 is already another top 15 month with current sales at 2.999 million (year-to-date sales are currently at 18.247 million). May will be one of the top 10 months ever for the .999 fine silver bullion coins should sales top 3,001,000 by the 31st.
Historically, it will not be the first time the bullion American Silver Eagle has been produced in San Francisco. They were minted there when introduced in 1986 and until 1998. In years 1999-2000, the bullion coins were manufactured in both Philadelphia and West Point. Starting in 2001 and until now, they had originated only in West Point.
As a U.S. Mint bullion product which carries no mint mark, going forward there will not be an obvious physical distinction as to where 2011 American Silver Eagle Bullion Coins were produced.
For reference, the U.S. Mint press statement announcing the change follows:
United States Mint to Begin Taking Orders for American Eagle Silver Bullion Coins at its San Francisco Facility
WASHINGTON – The United States Mint announced today that, effective May 31, it will fulfill orders for American Eagle Silver Bullion Coins with coins minted at its San Francisco facility, in addition to its facility at West Point.
Demand for American Eagle Silver Bullion Coins remains at unprecedented high levels. The United States Mint at West Point has been the sole producer of the coin for several years. Adding production at the United States Mint at San Francisco provides manufacturing flexibility across the bullion and numismatic product lines to meet customer needs.
The United States Mint conducted American Eagle Silver Bullion Coin trial strikes at San Francisco in March. The San Francisco facility will use the same manufacturing process and packaging currently used for coins minted at West Point. There will be no visible difference between the coins, and they do not have a mint mark. The United States Mint has the capacity to mint up to several hundred thousand coins per week in San Francisco.
The overall allocation methodology for distribution to Authorized Purchasers will continue to be done weekly and will include West Point volumes in the allocation calculation.
The United States Mint, created by Congress in 1792, is the Nation's sole manufacturer of legal tender coinage and is responsible for producing circulating coinage for the Nation to conduct its trade and commerce. The United States Mint also produces proof, uncirculated and commemorative coins; Congressional Gold Medals; and silver, gold and platinum bullion coins.
ADDITIONAL RESOURCES: