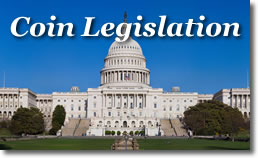 The new session of Congress has brought another round of legislation seeking Ronald Reagan Commemorative Coins.
The Ronald Reagan Commemorative Coin Act of 2011, which is numbered H.R. 497 and has been introduced several times with similar language in past Congressional sessions, calls for silver dollars and $5 gold pieces to celebrate Ronald Reagan, the 40th President of the United States.
The proposed commemorative silver dollar and $5 gold coin will share the same design, according to H.R. 497. The obverse sides would have a portrait of the former president and an inscription denoting his 100th birthday in 2011. The reverses would depict a design similar to the one already seen on the reverse of American Gold Eagles — an eagle carrying an olive branch and flying above a nest with another eagle and its hatchlings.
The commemorative coins would also include inscriptions of 'Liberty', 'In God We Trust', 'United States of America', 'E Pluribus Unum', the denomination and the year '2017'.
The designs, as is typical with coin legislation, would be selected by the U.S. Treasury Secretary after candidate designs were reviewed by the Commission of Fine Arts (CFA) and the Citizens Commemorative Coin Advisory Committee (CCAC).
Coin specifications would vary between the two commemorative coins. The silver dollar would weigh 26.73 grams, have a diameter of 1.5 inches, and have a composition of 90% silver and 10% copper. Their maximum mintage level would be 300,000. The $5 gold coins would weigh 8.359 grams, have a diameter of 0.85 inches and a composition of 90% gold and 10% alloy. Their mintage cap would be 50,000. Both silver and gold coins would be struck in collector proof and uncirculated qualities.
H.R. 497 calls for a $35 surcharge per gold coin and $10 surcharge per silver dollar to be paid:
by the Secretary to the Army Emergency Relief to be used by the Army Emergency Relief for the purposes of providing financial assistance to any of the following individuals:
(1) An individual who is an Army active duty soldier, single or married, or a dependent of such a soldier.
(2) A member of the Army National Guard or Army Reserve on continuous active duty under title 10, United States Code, for more than 30 consecutive days, or a dependent of such a member.
(3) A soldier retired from active duty because of longevity or physical disability, including any Army National Guard or Army Reserve soldier who is in receipt of Army retired pay, or any authorized dependent of such soldier.
(4) A surviving spouse or dependent child of a soldier who died while on active duty or after retirement.
For the Ronald Reagan Commemorative Coin Act of 2011 to become law, it must pass in the House and Senate and then receive the signature of the president.
Expectations for its passage appear low, given similar versions of the bill have been introduced since 2001 and have failed to make their way through the House or Senate. Also, given that the coins would be minted for sale only in 2017, which is six years beyond the 100th anniversary of Reagan's birth, the odds would seem even lower.
H.R. 497 is the first coin related piece of legislation to be introduced in Congress in 2011. It has been referred to committee. For information on past legislation introduced or passed, check out the coin bills page.