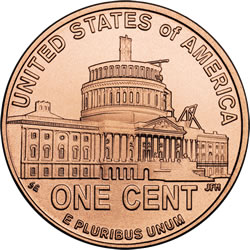 The public is invited to join United States Mint Director Ed Moy at a special ceremony to launch the final coin in the 2009 Lincoln Bicentennial One Cent Coin Program, honoring Abraham Lincoln's presidency in Washington, D.C.  The ceremony will take place 10 a.m. Eastern Time (ET) Thursday, November 12, at the Ulysses S. Grant Memorial Statue located below the west front of the U.S. Capitol Building.
Invited guests include Dr. Donald Kennon, Chief Historian of the U. S. Capitol Historical Society, and Eileen Mackevich, Executive Director of the Abraham Lincoln Bicentennial Commission.  Children 18 years and younger will receive a new "Presidency" Lincoln Bicentennial One-Cent Coin to commemorate the event.  The news media are welcome to attend.
The design selected for aspect four of Lincoln's life features the half-finished United States Capitol dome, symbolizing a Nation torn apart by civil war and the resolve Lincoln showed as he guided the country through its most grave crisis.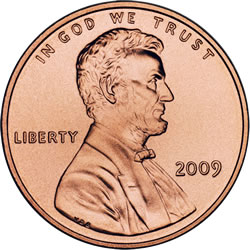 The coin's obverse (heads) continues to bear Victor David Brenner's familiar likeness of Lincoln.
Following the ceremony, the public can exchange their currency-while supplies last-for a minimum of two rolls and up to six rolls of coins bearing the new Lincoln "Presidency" design.  (Limits are subject to change.)
As authorized by law, the United States Mint has issued a series of four pennies this year to honor the bicentennial of Abraham Lincoln's birth and the 100th anniversary of the Lincoln cent.  The coins' reverse (tails side) design reflects four different aspects, or themes, of President Lincoln's life:  his birth and early childhood in Kentucky; his formative years in Indiana; his professional life in Illinois; and his presidency in Washington, D.C.  The obverse (heads side) of the coins continues to feature Victor David Brenner's likeness of President Lincoln that has graced the coin since 1909.
WHAT
Presentation of the Lincoln "Presidency" One-Cent Coin
WHO
Ed Moy, Director, United States Mint
Dr. Donald Kennon, Chief Historian, U. S. Capitol Historical Society
Eileen Mackevich, Executive Director, Abraham Lincoln Bicentennial Commission
WHEN
Thursday, November 12, 2009, at 10 a.m. (ET)
WHERE
Ulysses S. Grant Memorial Statue, below the west front of the U.S. Capitol Building
[Coin Collecting News editor: For more information on the new penny, also see the COINS section of this web site and read Lincoln Presidency Cent.]