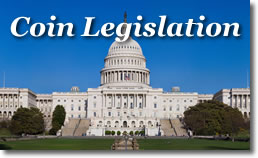 Coin legislation in 2009 has progressed extremely slow, which is exceedingly normal considering the congressional process each bill must suffer through to pass.
10 bills related to coinage have been introduced thus far. Not a single one has been given an up or down vote. Each is awaiting some action in a particular committee — either the Senate Committee on Banking, Housing, and Urban Affairs, or the House Committee on Financial Services.
Again, this is the norm. After all, only two commemorative series are authorized per year, placing coin legislation on relatively low priority. As a measure of sorts, it took until July for the first coin bill in 2008 to become law.
As Congress returns from a two-week recess this week, here are the active 2009 coin related bills they will consider:
None of these bills are new. They were introduced in the previous 110th Congress, but failed to pass in one or both houses. Each had to be reintroduced for the current 111th Congress.
For a bill to become law, it must pass in the House and Senate, and get signed by the President.
A reference for current and past year legislation is available at Coin legislation, Coin Acts and Coin Laws.