Australian Coins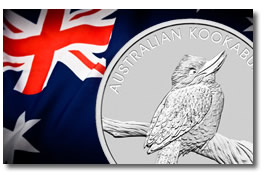 Welcome to the Australian Coins section of Coin Collecting News. Here you will find a guide to many of the latest Aussie coins and sets from The Perth Mint of Australia. These include silver coins, gold coins, platinum coins, proof, uncirculated, commemoratives and more.
Each section linked below offers complete information for the specific coin, its product descriptions, coin image, coin specifications and resources for more information. (For more information, also see Australian Coin News.)
Special Gold and Silver Coins

Discover Australia Coin Series

Special Shaped Coins

Special Themed Coins & Sets

Space & Orbital Themed Coins & Sets

Chinese Mythological Character Coins

Lunar Coin Series
Are you a beginner collector? You may be interested in reading common coin terms.
The Perth Mint, wholly-owned by the State Government of Western Australia, is the official issuer of the Australian Federal Government's Gold and Silver Bullion Coin Program. The Mint opened in 1899 in response to the discovery of rich gold deposits in Coolgardie and Kalgoorlie. It was Australia's third branch of Britain's Royal Mint – the others being the Sydney Mint and the Melbourne Mint (both closed).
The Perth Mint remained under Britain's jurisdiction until 1 July 1970, when ownership transferred to the State Government of Western Australia.
In 2003, The Perth Mint officially opened an 8,400 square metre state-of-the-art manufacturing facility next door to its original limestone building. Dominating the Mint's heritage precinct, these two important buildings are powerful symbols of more than 100 years of minting excellence in Western Australia.