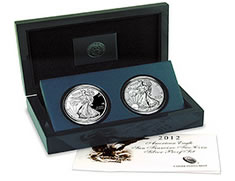 Sales of the 2012 San Francisco Proof Silver Eagle Two-Coin Set will begin by the United States Mint on Thursday, June 7, 2012 at noon (ET) and continue for four weeks to end on July 5, 2012 at 5 p.m. (ET).
Some of the details about the two-coin set were published in late April, but additional information such as the set's price is now available as it is being primed for release.
A public notice published on the Federal Register on Friday, June 1, 2012 listed the price of the two-coin set at $149.95. (Read this coin news pricing article for more.) For that price, buyers will receive two American Silver Eagle coins that are not offered elsewhere in U.S. Mint products. They include:
2012-S Reverse Proof Silver Eagle
2012-S Proof Silver Eagle
These two coins will ship within a blue lacquer presentation case along with a United States Mint Certificate of Authenticity. Both coins are unique offerings this year. A collectible Silver Eagle has not come out of the U.S. Mint plant located in San Francisco since 1992. The normal, annually issued proof has been produced at the Mint's West Point facility since 2001 and then in Philadelphia prior to that.
For collector American Eagle coins, the U.S. Mint presses upon them the mint mark of the facility which makes them. Those in the two-coin set will have 'S' mint marks. Past year annual offerings of the standard proof coins mentioned in the previous paragraph would have 'P' or 'W' mint marks. Since April 12, 2012, the U.S. Mint has been selling this year's standard West Point produced 2012-W Proof Silver Eagle for a price of $59.95.
The U.S. Mint has offered a reverse proof Silver Eagle before, but never one from San Francisco. The first one from Philadelphia was sold within the 20th Anniversary Silver Eagle Set in 1986 and the most recent one from Philadelphia was in last year's five-coin 25th Anniversary Silver Eagle Set which sold out in a few hours despite its 100,000 mintage. The reverse proof has a finish that is opposite of the standard proof's frosted, sculpted foregrounds and mirrored backgrounds.
Order Details, Mintage Limits and Ordering Limits
There will be no mintage limits for the two-coin set. They will be produced to meet the demand of coin collectors but, as mentioned, only through the four-week ordering window. Also, the product page for the set on the Mint's website has no statement about any household order limits. In fact, the U.S. Mint's home page currently has a splash message about the set with words in bold reading "No Limits!"
Upon its release, collectors interested in the 2012-S Proof Silver Eagle Two-Coin Set can place an order through the United States Mint website on this product page.
According to the Mint, it expects to begin shipping orders in late July 2012.
American Eagle Coin Designs
Aside from varying finishes and mint marks, designs on every American Silver Eagle have been the same since the series was first introduced to the public when sales began in October 1986.
The obverse design features "Lady Liberty" striding confidently toward the sunrise, draped in the strength of the Stars and Stripes. This design, by Adolph A. Weinman, first appeared on the Walking Liberty half dollar which began circulating in American change in 1916. The reverse, by John Mercanti, offers a view of an eagle with shield.