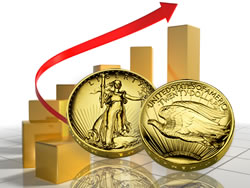 Droves of buyers gobbled up US Mint numismatic products, according to this week's sales report. The 2011 U.S. Army Commemorative Coins started with a decent bang, and this year's Silver Proof Set propelled another 20K.
The Army Commemorative Coins debuted with the silver dollars as their leader. 46,895 proofs sold along with 20,698 of the uncirculated. Together the silver coin total came to 67,593. The clad half-dollar, or 50¢ piece, was close behind the silver dollar. Enthusiasts purchased 30,162 of the proofs and 19,528 of the uncirculated, which meant the clads came to 49,690. Rounding out the commemoratives were the $5 gold coins. 7,861 proofs and 3,045 uncirculated coins were taken, totaling 10,906.
Each denomination of the Army Commemorative Coins has a different design than the others. The coins launched on Monday, January 31, and they are the first of two kinds of commemoratives to be released in 2011. The 2011 Medal of Honor Commemorative Coins will launch on February 25.
2011 Silver Proof Sets added another 23,151 in their first full week on the market. That addition brought their total to 232,518. Their sales began back on Tuesday, January 25. As for the other top numismatic sellers, the 2011 Proof Set followed with a jump of 20,473. The remaining items did not surge quite as much. The next highest was the 2010 Silver Proof Set with a gain of 3,213.
The pace of American Eagle bullion coins cooled just a little. Silver Eagles increased by 937,000 since January 31. Their previous jump was 1,698,000. Annual sales are now 7,359,000.
In the gold arena, the one ounce Gold Eagles rose 25,500 and their annual total is at 156,000. The fractional one-quarter Eagle picked up 2,000 and the one-tenth ounce tacked on 5,000.
The first three columns of the table below provide weekly US Mint sales increases between the listed time periods, offering a sense of recent trends. The final column provides the latest US Mint sales totals as of Sunday, February 6, 2011. Bullion coin tables are found toward the bottom, with the most recent sales as of Thursday, February 10. (NLA = No Longer Available.)
US Mint Sales
Unit
Increase
Jan 17-
Jan 23
Unit
Increase
Jan 24-
Jan 30
Unit
Increase
Jan 31-
Feb 6
Latest
Sales
Totals
2011 U.S. Army Commemorative Coins
$5 Gold Proof
7,861
7,861
$5 Gold Uncirculated
3,045
3,045
$1 Silver Proof
46,895
46,895
$1 Silver Uncirculated
20,698
20,698
50¢ Clad Proof
30,162
30,162
50¢ Clad Proof
19,528
19,528
2010 American Buffalo Gold Proof
205
185
302
45,238
2010 American Eagle Silver Proof
NLA
NLA
NLA
860,000
2010 American Eagle Platinum Proof
NLA
NLA
NLA
10,000
2010 American Eagle Gold Proof Coins
One ounce
NLA
NLA
NLA
25,000
One-half ounce
NLA
NLA
NLA
10,000
One-quarter ounce
NLA
NLA
NLA
10,000
One-tenth ounce
NLA
NLA
NLA
20,000
Four-coin set
NLA
NLA
NLA
35,000
FIRST SPOUSE GOLD COINS
Abigail Fillmore Proof (2010)
14
22
32
5,582
Abigail Fillmore Uncirculated (2010)
7
7
22
3,335
Jane Pierce Proof (2010)
90
20
33
4,655
Jane Pierce Uncirculated (2010)
14
18
17
2,864
Buchanan's Liberty Proof (2010)
110
43
226
7,317
Buchanan's Liberty Uncirculated (2010)
127
32
35
4,461
Mary Lincoln Proof (2010)
61
89
124
5,194
Mary Lincoln Uncirculated (2010)
14
43
69
2,532
US MINT PROOF SETS
2011 United States Mint Silver Proof Set
209,367
23,151
232,518
2011 United States Mint Proof Set
25,879
21,784
20,473
321,280
2010 United States Mint Proof Set
3,338
3,043
2,752
1,060,329
2010 America the Beautiful Quarters Proof Set
945
782
558
259,045
2010 U.S. Mint Silver Proof Set™ (18-coin)
2,711
2,868
3,213
532,306
2010 Presidential $1 Coin Proof Set™
801
660
812
518,097
2010 America The Beautiful Quarters Silver Proof Set™
1,189
963
1,559
235,521
US MINT UNCIRCULATED SETS
2010 United States Mint Uncirculated Set
2,280
1,391
1,291
559,174
2010 Presidential Uncirculated Dollar Coin Set™ (P&D)
424
670
329
92,782
2010 America the Beautiful Quarters Uncirculated Coin Set
619
558
434
22,201
2010 QUARTERS CIRCULATING COIN SET
287
289
298
14,082
2010 AMERICA THE BEAUTIFUL 3-COIN SET
Yellowstone Quarters
624
838
749
14,791
Hot Springs Quarters
233
250
232
15,816
GETTYSBURG QUARTER QUARTER BAGS & ROLLS
100-coin bag (P)
3,275
359
3,634
100-coin bag (D)
3,230
327
3,557
Two-Roll Set (80 coin) (P&D)
20,871
2,302
23,173
MOUNT HOOD QUARTER QUARTER BAGS & ROLLS
100-coin bag (P)
81
56
33
5,714
100-coin bag (D)
58
68
40
5,470
Two-Roll Set (80 coin) (P&D)
190
227
211
31,101
GRAND CANYON QUARTER QUARTER BAGS & ROLLS
100-coin bag (P)
64
54
26
6,275
100-coin bag (D)
43
55
35
6,618
Two-Roll Set (80 coin) (P&D)
149
159
145
33,247
YOSEMITE QUARTER QUARTER BAGS & ROLLS
100-coin bag (P)
36
73
19
6,891
100-coin bag (D)
29
40
22
6,929
Two-Roll Set (80 coin) (P&D)
109
153
107
35,937
YELLOWSTONE QUARTER QUARTER BAGS & ROLLS
100-coin bag (P)
35
35
28
8,057
100-coin bag (D)
33
29
33
8,550
Two-Roll Set (80 coin) (P&D)
102
117
114
41,087
HOT SPRINGS QUARTER BAGS & ROLLS
100-coin bag (P)
37
28
25
9,532
100-coin bag (D)
26
23
27
8,859
Two-Roll Set (80 coin) (P&D)
86
83
84
46,192
2009 JAMES K. POLK $1 COIN ROLLS
25-coin roll set (P)
30
49
29
42,252
25-coin roll set (D)
23
36
31
40,544
2009 ZACHARY TAYLOR $1 COIN ROLLS
25-coin roll set (P)
29
38
26
39,765
25-coin roll set (D)
25
27
30
37,905
2010 MILLARD FILLMORE $1 COIN ROLLS
25-coin roll set (P)
34
50
40
38,310
25-coin roll set (D)
30
30
38
36,537
2010 FRANKLIN PIERCE $1 COIN ROLLS
25-coin roll set (P)
44
59
44
35,087
25-coin roll set (D)
40
39
45
34,421
2010 JAMES BUCHANAN $1 COIN ROLLS
25-coin roll set (P)
89
98
74
33,178
25-coin roll set (D)
83
86
65
32,695
2010 ABRAHAM LINCOLN $1 COIN ROLLS
25-coin roll set (P)
366
408
393
46,255
25-coin roll set (D)
313
368
354
46,099
PRESIDENTIAL $1 COIN & FIRST SPOUSE MEDAL SETS™
Abigail Fillmore
27
24
20
9,204
Jane Pierce
31
26
27
7,050
Buchanan's Liberty
61
58
48
6,301
Mary Lincoln
343
387
465
10,371
2010 KENNEDY HALF-DOLLAR BAGS & ROLLS
200-coin bag (P&D)
23
-30
0
8,846
2-roll set (P&D)
223
154
209
35,338
2010 NATIVE AMERICAN GOLDEN DOLLAR ROLLS
25-coin roll set (P)
135
244
128
38,176
25-coin roll set (D)
117
103
132
37,965
PRESIDENTIAL $1 COIN COVERS
William Henry Harrison
44
27
19
29,156
John Tyler
48
26
13
25,945
James K. Polk
51
27
18
24,165
Zachary Taylor
58
31
18
23,093
Millard Fillmore
42
47
24
22,007
Franklin Pierce
56
66
36
20,299
James Buchanan
93
99
69
18,719
Abraham Lincoln
469
662
502
28,493
LINCOLN TWO-ROLL SETS
2010 Shield Cent
387
841
379
171,824
| | | | |
| --- | --- | --- | --- |
| | January | February | 2011 TOTALS |
| America the Beautiful Silver Bullion Coins | | | 0 |
| American Eagle Gold 1 oz | 130,500 | 25,500 | 156,000 |
| American Eagle Gold 1/2 oz | 1,000 | 0 | 1,000 |
| American Eagle Gold 1/4 oz | 2,000 | 2,000 | 4,000 |
| American Eagle Gold 1/10 oz | 20,000 | 5,000 | 25,000 |
| American Buffalo Gold 1 oz | | | 0 |
| American Eagle Silver 1 oz | 6,422,000 | 937,000 | 7,359,000 |