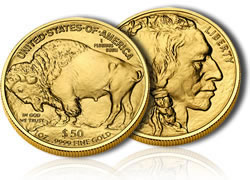 The United States Mint on Monday, March 14, 2011, began selling the 2011 American Buffalo Gold Bullion Coin. By Wednesday, buyers picked up 21,500 of them.
The US Mint's line of American Gold Eagles are composed of 22 karat gold, making the Buffalo the only 24 karat, or .9999 fine, gold bullion coin it offers.
Unlike its numismatic products produced for collectors, the Mint only sells bullion coins through a small group of distributors known as "Authorized Purchasers." As such, buyers of the coins generally pay a small mark-up over the current price of gold. The Mint will also issue a numismatic 2011 American Buffalo Gold Proof Coin this year (scheduled for release on May 19, 2011), but it will sell these directly to the public at a fixed price that will change, at most, once a week.
The debuting sales of 21,500 for the 2011 Buffalo Gold is significantly less than last year's issue which debuted at 48,500 on its release day alone. But then gold prices were less volatile as compared to the ups and downs seen in recent days due to the various crisises in the Middle East, North Africa and Japan.
The American Buffalo Gold Bullion Coin was authorized by Congress in 2005. It was introduced to the market as an investment-grade coin in 2006. The piece has had varying mintages throughout the years, and at times has had its production suspended or halted. 2007 was the only year the US Mint sold the coins for each of the twelve months. As such, the following per year mintages are not exactly apple-to-apple comparisons.
American Buffalo Gold Bullion Coin Mintages
| | |
| --- | --- |
| 2006 | 337,012 |
| 2007 | 136,503 |
| 2008 | 189,500 |
| 2009 | 200,000 |
| 2010 | 209,000 |
The gold coin features the same basic design that debuted on the 1913 circulating nickel, commonly known as either the "Indian Head Nickel" or the "Buffalo Nickel." This classic coin design is considered by many to be one of the most attractive. The design was in use until 1938 when it was discontinued in favor of the portrait of Thomas Jefferson.
The obverse has a portrait of a Native American, said to be a composite of three Indian chiefs. The reverse features an American buffalo which is believed to be modeled after the creature named "Black Diamond" who lived in the New York City Zoo.