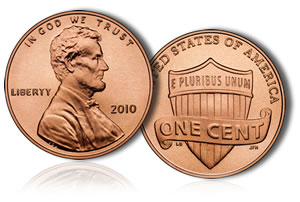 Collectors and the public at large will be able to exchange cash for 2-6 rolls of the new 2010 Lincoln cents for up to six hours in two Washington, D.C., locations on Thursday, February 25, 2011.
The new penny featuring the shield reverse designs was ceremoniously launched into circulation on February 11, 2010 in Springfield, Illinois — the city where Abraham Lincoln spent most of his adult life. Attendees at the event were able to exchange money for between 2-6 rolls of the new coins. In less than 3 hours, 20,000 rolls containing 1,000,000 pennies were exchanged.
On the same day, the United States Mint had scheduled coin exchange opportunities at their Headquarters Building, 801 9th St NW, and in Union Station, 50 Massachusetts Avenue NE. However, the winter storm that blew through the East Coast and shut down the federal government for most of the week forced a cancellation of the exchanges.
The rescheduled D.C. area exchanges will occur at the same locations on Thursday between 10:00 AM – 4:00 PM Eastern Time, or until the penny inventory is exhausted. Collectors will be able to swap for between two to six rolls of the coins.
The new Lincoln "Preservation of the Union" cent is emblematic of President Lincoln's preservation of the United States of America as a single and united country. The 2010 reverse features a union shield with a scroll draped across it bearing the inscription E PLURIBUS UNUM. The design will appear on one-cent coins from this year forward.